PL-H960 Precision Machine Vision Cameras
rong>PL-H960 CCD cameras are ideal for machine vision applications that require absolute precision.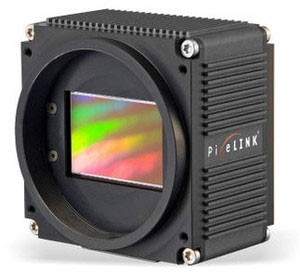 PixeLINK®, a global provider of industrial cameras for the machine vision and microscopy markets, today announced the release of a new family of professional industrial cameras.

Designed for industrial applications that require the utmost precision, the PL-H960 series of machine vision cameras deliver high-quality imagery and performance in a compact package.

"The new PL-H series of cameras are designed for machine vision customers that require the highest level of image detail, speed and quality" says William Lesniowski, President of PixeLINK®. "The introduction of the PL-H960 offers customers additional flexibility in selecting the best industrial camera for their application without sacrificing image quality or camera performance."

Featuring a dual Gigabit Ethernet (GigE) interface and Interline-Transfer CCD sensors from Kodak, the PL-H960 industrial cameras offer resolutions ranging from 4 to 16MP and are available in color and monochrome versions.

The PL-H960 cameras offer a variety of trigger (internal/external/free running) and exposure modes and can capture a large field of view, making them ideal for optical metrology, quality assurance, surveillance of large areas, traffic monitoring and more.

Now shipping, PL-H960 cameras are available directly from PixeLINK® or from its network of certified channel partners. Contact PixeLINK at +1 (613) 247-1211 or visit the PixeLINK website for further details.

About PixeLINK
PixeLINK® is a global provider of industrial cameras for the machine vision and life sciences markets. Since 1992, PixeLINK® has designed, manufactured and supported the hardware and software requirements of machine vision, OEM and microscopy customers around the world. Offering unmatched customer support and service, PixeLINK® designs and manufactures reliable industrial cameras and microscope cameras for any machine vision project or microscopy application.

Based in Ottawa, Canada, PixeLINK® combines reliable industrial camera hardware with industry-leading software to offer unmatched off-the-shelf, OEM and custom industrial imaging solutions to customers.