PL-E950 High-Resolution CCD Machine Vision Camera
rong>PixeLINK® Broadens PL-E Product Line, Adds High-Resolution Machine Vision Camera

New PL-E950 CCD machine vision camera from PixeLINK® offers maximum performance at a minimum size.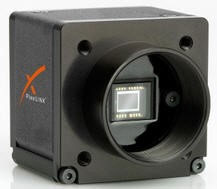 PixeLINK®, a global provider of industrial cameras for the machine vision and microscopy markets, today announced the release of its PL-E950 CCD industrial camera. This high-resolution industrial camera further expands the company's popular PL-E line of compact, affordable machine vision cameras.

"The PL-E950 offers an unbeatable price-to-performance ratio for OEMs and machine vision manufacturers," explains William Lesniowski, President of PixeLINK®. "Moreover, its compact, modular design allows for easy integration into both new and existing machine vision applications."

Offering resolutions from VGA up to 4 mega pixels, PL-E950 cameras feature a Gigabit-Ethernet (GigE) interface that ensures fast data transfer rates. Available in both monochrome and color versions, the PL-E950 is well suited to applications that require multiple, small-footprint cameras for security surveillance and monitoring, biometrics, parts inspection, metrology, and more.

As with all PixeLINK® cameras, the PL-E950 can be combined with the acclaimed PixeLINK® Software Developer's Kit (SDK) to streamline and simplify the integration of the camera into machine vision applications.

Now shipping, the PL-E950 is available directly from PixeLINK® or from its network of certified channel partners. Contact PixeLINK at +1 (613) 247-1211 or visit the PixeLINK website at www.pixelink.com for further details.

About PixeLINK

PixeLINK® is a global provider of industrial cameras for the machine vision and life sciences markets. Since 1992, PixeLINK® has designed, manufactured and supported the hardware and software requirements of machine vision, OEM and microscopy customers around the world. Offering unmatched customer support and service, PixeLINK® designs and manufactures reliable industrial cameras and microscope cameras for any machine vision project or microscopy application.

Based in Ottawa, Canada, PixeLINK® combines reliable industrial camera hardware with industry-leading software to offer unmatched off-the-shelf, OEM and custom industrial imaging solutions to customers.