PL-C722 Global Shutter Camera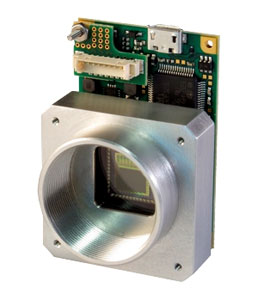 PixeLINK is excited to introduce its most compact and robust industrial camera to date: the new PL-C722 global shutter camera. Developed specifically to meet the needs of the most demanding machine vision applications, the PL-C722 CMOS camera provides low noise and high quality.
Pricing is available for the PL-C722 using the PixeLINK online price list. If you require your login credentials, please contact your sales representative. Click here to access the PixeLINK partners section.
Superior Image Quality & Performance
The PL-C722 cameras feature a 2.3 megapixel (1920 x 1200) resolution imager capable of outputting 17fps. The PL-C722 cameras are available with either a color or monochrome sensor and are designed on the USB2 interface that is plug-and-play ready. The cameras leverage a global shutter CMOS sensor and support a high dynamic range of 53dB (in 10-bit mode). The cameras' GPIOs enable the ability to synchronize the camera with external hardware for added flexibility.

For the full range of specifications, download the PL-C722 datasheet.
PL-C722 cameras are particularly well suited for high-contrast applications that include:
Parts inspection
Metrology
Medical Devices
Welding inspection
PCB inspection
Security and Surveillance
Order Now! Initial supply for this exciting new camera is limited, Contact PixeLINK today!

About PixeLINK
PixeLINK is a global provider of custom industrial cameras for the machine vision and OEM markets. For over 20 years, PixeLINK has designed, manufactured, and supported the hardware and software requirements for the medical, inspection, and security markets. Through its custom camera design services, PixeLINK offers reliable precision camera hardware and industry-leading software that simplifies the integration of cameras into any machine vision application. PixeLINK provides quick prototyping and reduced time-to-market.

Your inspiration, our commitment and dedication!



We enable:
Machine vision manufacturers to select and integrate the optimal industrial camera for their machine vision application.
OEM customers to integrate reliable industrial camera systems into their applications in a cost-effective manner.
Customers to reduce the time-to-market for their machine vision application via our rapid camera prototyping services.
Headquartered in Ottawa, Canada, PixeLINK offers a broad CMOS and CCD camera product line, a renowned Software Developer's Kit (SDK), and unmatched customer support and service.