Pixelink® Expands Camera Line Featuring Sony 3rd Generation Pregius Sensors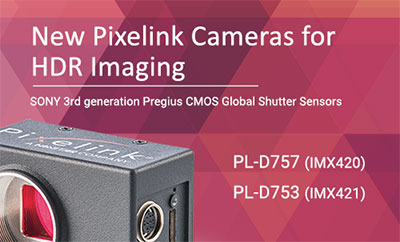 Pixelink® Expands Camera Line Featuring Sony 3rd Generation Pregius Sensors High Speed Performance and Low Noise Images Ideal for HDR Imaging
Ottawa, Canada – Pixelink, a global provider of industrial cameras for the machine vision and microscopy markets, announced today the release of two new USB 3.0 cameras using Sony's 3rd generation Pregius CMOS global shutter sensors. The Pixelink PL-D757, based on Sony IMX420, and PL-D753, based on IMX421, are ideal for high dynamic range (HDR) imaging applications requiring both high resolution images and high frame rates.
HDR imaging renders a captured image with a greater dynamic range of luminosity than standard digital imaging. A key feature of the 3rd generation Sony Pregius CMOS global shutter sensors is a Dual ADC mode where each pixel can be read out with two different gains. The PL-D757 and PL-D753 take advantage of this new sensor feature by combining the dual ADC images into a single hybrid HDR image directly on camera, thus removing the need for any host processing. The combination of a low gain image used for bright areas of a scene, along with a high gain image used for dark areas of a scene, allow details to be discerned in both the bright and dark areas of an image.
The PL-D757 is a 7.1MP camera with a 1.1" sensor size capable of 60 frames per second at a resolution of 3208 x 2200. The PL-D753 is a 2.8MP camera with a 2/3" sensor size and 143 frames per second at a resolution of 1936 x 1464. Both cameras have a 4.5 µm pixel size and are available in color and monochrome versions.
"These cameras are great additions to Pixelink's industrial camera product line," remarked Lisanne Glavin, General Manager of Pixelink. "The PL-D757 and PL-D753 provide low noise images and high frame rates making them ideal for a range of challenging industrial applications, such as detecting moving parts."
The two new HDR imaging cameras, along with Navitar 4K HDR lenses, will be on display in the Navitar/Pixelink stand (1H-38) at the VISION show in Stuttgart, Germany next week. As with all Pixelink cameras, these models are also compatible with Pixelink Capture, a free, real-time, interactive, multi-camera software application.
About Pixelink
Pixelink, a Navitar Company, designs and manufactures consistently reliable industrial and life science cameras for machine vision, medical imaging, biometrics, and microscopy applications. Since 1992, Pixelink products have supported imaging requirements of customers around the world. Pixelink offers unmatched customer service and engineering support, while providing the finest off-the-shelf, OEM, and custom industrial imaging solutions to their customers.