Pittman® Releases 32 Brushless Motors into e-Commerce
Motors and Gearmotors Ranging in Torque from 0.04 to 8.5Nm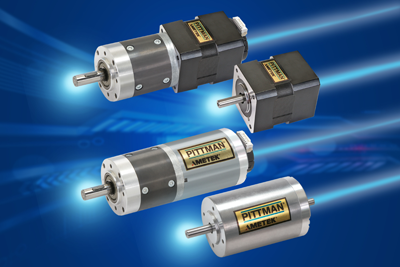 Pittman® a business unit of AMETEK Precision Motion Control, has released the EC044A and EC042B Series brushless motors into its 24-Hour Pittman Express e-Commerce store. Both EC044A and EC042B Series come with the new E30 encoder and PLG42S planetary gear that yield an outstanding level of performance in a truly compact assembly.
The EC044A is an economical 44mm brushless motor available in a range of lengths, windings and gear ratios to accommodate a range of user application requirements. Performance ranges from 0.04Nm (6 oz-in) to 4Nm (600 oz-in) of rated torque with rated speeds from 40 to 4500 rpm. Although stock gear ratios range from 4 – 100:1, optional ratios go to 512:1 yielding 14Nm of output.
The EC042B is the latest Pittman motor addition, effectively doubling rated torque in a smaller 42mm diameter. Performance ranges from 0.06Nm (9 oz-in) to 8.8Nm (1200 oz-in) of rated torque with rated speeds from 40 to 4500 rpm in stock solutions. The EC042B comes with the same options available in the EC044A in both stock and standard configurations.
The PittmanExpress e-Commerce store with 24-hour shipment offers a range of immediately available solutions. It is understood however, that one cannot predict all customer needs and as such also have the option of modifying motors to meet users' unique requirements. Motors can be specified with a range of different windings, speeds, gear ratios and encoder outputs.
Brushless motor users should gear up for their next development project with new Pittman motor technology and go online to the PittmanExpress e-Commerce website to view the latest motor and gearmotor solutions available for immediate delivery.
About Pittman
Pittman Motors is part of the AMETEK Precision Motion Control division. Pittman products are designed into a wide variety of high-tech motion applications, including lab automation, medical devices, communications equipment, semiconductor processing equipment, aerospace systems, and many other applications where precision motion is critical.
The Pittman motor line spans a wide variety of DC motor sizes and technologies, ranging from 10 mm-diameter brushless DC motors used in high-speed medical applications to large NEMA frame DC servo motors used in sophisticated automation equipment. Pittman also offers a wide variety of complementary products such as gearboxes, encoders, brakes, and drive systems.
AMETEK Precision Motion Control is a division of AMETEK, Inc., a leading global manufacturer of electronic instruments and electromechanical devices.