PITTMAN® Introduces DC032A Series of Brush DC Motors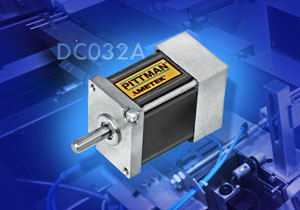 HARLEYSVILLE, PA - PITTMAN® Motors, a business unit of AMETEK Precision Motion Control, has introduced the DC032A Series of brush DC motors, the latest addition to its broad range of DC brush and brushless motors. The DC032A series is a high torque density motor designed in a rectangular package. Its compact size and high-power density makes it especially suitable for portable equipment and power tools.
The motor body cross section measures a compact 25 mm by 32 mm. It is available in three motor lengths with continuous torque from 0.027 - 0.034 Nm. The DC032A series has a maximum speed of 6500 rpm and can be used with DC bus voltages up to 48 volts. There are 8 standard winding variations to suit most every project. Custom windings are available to further maximize exacting end-product requirements.
The motor construction features a high-energy, 4-pole stator with rare earth magnets. The 13 slot commutation design minimizes torque ripple. The armature slots are skewed for optimum reduction of reluctance torque (LO-COG®). The motor shaft is supported by shielded ball bearings that are preloaded for low vibration and quiet operation.
DC032A motors are available with optional Pittman G35A gearboxes and H type incremental encoders.
About Pittman
Pittman is part of the AMETEK Precision Motion Control division. PITTMAN products are designed into a wide variety of high-tech motion applications, including lab automation, medical devices, communications equipment, semiconductor processing equipment, aerospace systems, and many other applications where precision motion is critical.
The PITTMAN motor line spans a wide variety of DC motor sizes and technologies, ranging from 10 mm-diameter brushless DC motors used in high-speed medical applications to large NEMA frame DC servo motors used in sophisticated automation equipment. PITTMAN also offers a wide variety of complementary products such as gearboxes, encoders, brakes, and drive systems.
AMETEK Precision Motion Control is a division of AMETEK, Inc., a leading global manufacturer of electronic instruments and electromechanical devices.