PICMG® 1.3 SHB Featuring 2nd Generation Intel® Core™ i7 Processor and Q67 Express Chipset
rong>The highly-integrated NuPRO-E340 supports advanced technologies including SATA 6 Gb/s and USB 3.0.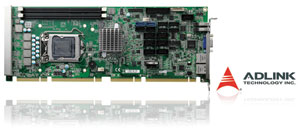 San Jose, CA – ADLINK Technology, Inc., a leading provider of industrial building blocks, will debut the NuPRO-E340, the latest PICMG® 1.3 full-sized System Host Board (SHB), at the Embedded Systems Conference Silicon Valley from May 3 to 5, 2011 in San Jose, CA. The ADLINK NuPROE340 utilizes the 2nd generation quad-core Intel® Core™ i7 processor at core speeds up to 3.4 GHz integrated with the Intel® Q67 Express Chipset PCH, and supports the latest high-speed data transfer interfaces such as USB 3.0 and SATA 6 Gb/s (SATA III). The NuPRO-E340 is equipped with dual-channel DDR3 1066/1333 MHz memory up to a maximum of 8GB in two DIMM slots and is ideally suited to applications requiring multi-tasking capabilities, high computing power and high-speed data transfer rates such as industrial control, machine vision and automation.

"The integration of the 2nd generation Intel® Core™ processor and Q67 Express Chipset brings improved computing and graphics performance, as well as next generation high-speed interfaces. This CPU/chipset combination provides the NuPRO-E340 with improved power efficiency and high-speed data transfer for performance-driven industrial applications," stated Bruce Tsai, Product Manager of ADLINK's IPC Product Center. "In addition, with Intel® Active Management Technology 7.0 (Intel® AMT 7.0) and Intel® Trusted Execution Technology support, the NuPRO-E340 brings better manageability and platform security".

ADLINK's NuPRO-E340 combines computing and graphics performance with leading I/O technologies. It features the 2nd Generation Intel® Core™ processor which provides quad-core computing and Intel® Hyper- Threading Technology capabilities with an integrated graphics core and memory controller. The new platform features significant improvements in graphics capabilities including integrated Intel® HD graphics, DX10.1 and OpenGL 3.0.

For applications in more stringent environments, customers need comprehensive solutions with proven reliability. ADLINK's NuPRO-E340 is verified to be fully compatible with the ADLINK ASD Series of SATA 6Gb/s solid state drive products. By providing a total computing and storage solution with enhanced stability, ADLINK helps customers to reduce total cost-of-ownership and time-to-market. Tests of the NuPRO-E340 with the ADLINK ASD25-SLC SSD produced SATA data transfer rates of 390 MB/sec sequential read and 300 MB/sec sequential write. The NuPRO-E340 has also been validated to support USB 3.0 at a data transfer rate of 92 MB/s.

The ADLINK NuPRO-E340 provides a wide range of storage, I/O, and expansion connectivity, including 6 COM ports, 12 USB ports (2 USB 3.0), and 6 SATA ports (2 SATA 6 Gb/s). The NuPRO-E340 has been verified for both 32-bit and 64-bit versions of Windows 7 and Windows XP. For more ADLINK industrial single board computer product information, please visit: http://www.adlinktech.com/Industrial_computers/. Visit ADLINK at Booth 1910, ESC Silicon Valley to experience ADLINK's products in person.

About ADLINK

ADLINK Technology provides a wide range of embedded computing products and services to the test & measurement, automation & process control, gaming, communications, medical, network security, and transportation industries. ADLINK products include PCI Express®-based data acquisition and I/O; vision and motion control; and AdvancedTCA®, CompactPCI®, and Computer-on-Modules (COMs) for industrial computing. With the acquisition of Ampro Computers, Inc., ADLINK also provides a wide range of Extreme Rugged and Rugged Single Board Computers, Computer-on-Modules and Systems under the brand name Ampro by ADLINK. ADLINK strives to minimize the total cost of ownership (TCO) of its customers by providing customization and system integration services, maintaining low manufacturing costs, and extending the lifecycle of its products. ADLINK is a global company with headquarters and manufacturing in Taiwan; R&D and integration in Taiwan, China, and the US; and an extensive network of worldwide sales and support offices.

ADLINK is ISO-9001, ISO-14001, ISO-13485, and TL9000 certified, is an Associate Member of the Intel® Embedded Alliance, an Executive Member of PICMG, a Sponsor Member of the PXI Systems Alliance, and a Member of the AXIe Consortium. ADLINK is a publicly traded company listed on the TAIEX Taiwan Stock Exchange (stock code: 6166).
Embedded Vision
This content is part of the Embedded Vision curated collection. To learn more about Embedded Vision,
click here
.