PIAB and SKF Logistics Services Announce Partnership
New partnership allows PIAB to deliver product to customers within 24 hours.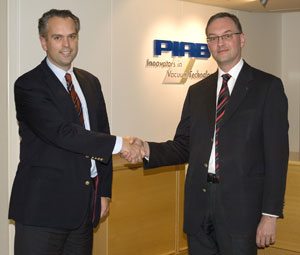 PIAB, a global leader in industrial vacuum technology, announces its logistics partnership with SKF Logistics Services with an official contract signing ceremony in Täby, Sweden on November 20, 2007. PIAB will now distribute high-volume stocked products and high service level spare parts from SKF's central warehouse, located in Tongeren, Belgium. Strategically positioned from a logistical standpoint, the new partnership will allow PIAB to deliver product to customers in key regions of the EU within 24 hours.
''Our main objectives are to improve the availability of our products in all markets and cut lead-times in distribution to better support our customers,'' stated Christer Söderberg, global supply manager at PIAB. ''We know that to remain competitive, our customers require faster delivery service. This can now be achieved within each market since orders will be packed and shipped the day they are received.''
''This relationship simply makes sense on a variety of levels,'' said Jacob Tell, CEO of PIAB. ''SKF is set up to distribute a variety of products, including small, lightweight, high-valued products like ours. With their proven track record and numerous capabilities, we feel that they truly understand our need to best serve our customers as we continue to grow globally.''
This partnership will afford PIAB a global reach with a single logistics partner. President of SKF's Service Division Phil Knights commented: ''SKF Logistics Services is thrilled with this logistics partnership with PIAB. We are proud that the company chose to work with us, and look forward to supporting its sales growth across Europe and overseas. PIAB's spirit to offer top quality, innovative products and best-in-class service to the manufacturing industry worldwide corresponds exactly to SKF's own vision. As our European distribution center in Tongeren is situated at the core of our pan-European daily transport system, it is an excellent basis for providing PIAB's customers fast and reliable delivery service at competitive cost.''
About PIAB
Established in 1951, PIAB designs innovative solutions that improve the productivity and working environment of vacuum users around the world. PIAB manufacturers a complete line of vacuum pumps, vacuum accessories, vacuum conveyors and suction cups for a variety of automated material handling and factory automation processes. PIAB utilizes COAX®, the next dimension in vacuum technology, in many of its original products and solutions. COAX® is an advanced technology for creating vacuum with compressed air. COAX® cartridges are smaller, more efficient and more reliable than conventional ejectors, and can be integrated directly into machinery. This allows for the design of a flexible, modular vacuum system. For more information about PIAB vacuum solutions for a diverse range of applications, visit www.piab.com.
About SKF Logistics Services
Established in 1995 as an independent business unit, SKF Logistics Services provides warehousing, transportation, packaging and value-added services for the SKF Group worldwide. Based on their wide expertise in industrial logistics, SKF Logistics Services offers third party manufacturers an integrated logistics solution, providing them a competitive edge in cost, service and flexibility. SKF Logistics Services manages a worldwide transportation network with scheduled departures by land, air and sea, ensuring reliable deliveries up to the end customer's door. SKF Logistics Services employs approximately 1,000 employees worldwide. www.skflogisticsservices.com
Contact:
Elizabeth Firger
Gray & Rice Public Relations
+1617-367-0100 ext. 119
[email protected]
PIAB Contact:
Malin Almering
+46 8 630 2579
[email protected]