Phoenix Polarization 5.0 MP Camera Featuring Sony's IMX250MZR CMOS Sensor Available Now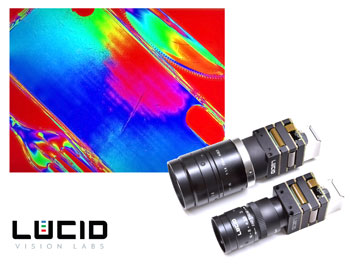 LUCID Vision Labs, Inc., a designer and manufacturer of unique and innovative industrial vision cameras, is pleased to announce the availability of its Phoenix Polarization camera featuring Sony's new IMX250MZR CMOS polarized sensor.
The 5 Megapixel global shutter sensor is based on the popular IMX250 Sony Pregius CMOS mono sensor with a polarizing filter added to each pixel. Like the non-polarized version of the sensor, it has a pixel size of 3.45 μm and can achieve frame rates of up to 24 fps. The IMX250MZR has four different directional polarizing filters (0°, 90°, 45°, and 135°) on every four pixels. The pixel data can be used to calculate polarization data such as the degree and angle of linear polarization.
Polarized sensors enable the detection and characterization of many material properties such as plastic, glass, metal and carbon fiber that were impossible to see with conventional monochrome or color sensors. A wide range of applications such as chemical, pharmaceutical, as well as food and beverage inspection can benefit from using polarization imaging.
"We are pleased to provide early access to customers who are interested in evaluating Sony's new polarization sensing technology and enhance their inspection capabilities," says Rod Barman, Founder and President at LUCID Vision Labs. "The Phoenix Polarization camera provides a cost-effective way to uncover hidden material properties to better perform inspection and classification in industrial applications."
The Phoenix is a micro compact camera with a versatile board design and measures only 24 x 24 mm, making it the world's smallest industrial GigE PoE camera. All LUCID cameras conform to the GigE Vision 2.0 and GenICam3 standards and are supported by the company's own Arena software development kit. Early production units of the Phoenix polarization camera model PHX050S-P are now available to purchase.
About LUCID
LUCID Vision Labs, Inc. designs and manufactures innovative machine vision cameras and components that utilize the latest technologies to deliver exceptional value to customers. Our compact, high-performance GigE Vision cameras are suited for a wide range of industries and applications such as factory automation, medical, life sciences and logistics. We innovate dynamically to create products that meet the demands of machine vision for Industry 4.0. Our expertise combines deep industry experience with a passion for product quality, technology innovation and customer service excellence. LUCID Vision Labs, Inc. was founded in January 2017 and is located in the greater Vancouver area, Canada.