Phase 1 Technology Chosen as Premier Certified Distributor for Ricoh Factory Automation Lenses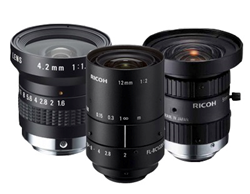 Phase 1 Technology, a vertically integrated distributor of high-performance machine vision and imaging system cameras and components, has been chosen as the premier certified distributor for Ricoh Factory Automation series of lenses in the United States.
Ricoh USA, Inc. has changed the distribution and support method of Ricoh FA products in North America. RICOH Industrial Solutions Inc. (RINS) in Japan will succeed Ricoh USA, Inc. As a result of this change, Phase 1 Technology is now the premier Certified Distributor in the USA representing Ricoh's high-performance Factory Automation (FA) series of industrial camera lenses.
"We're honored Ricoh has chosen us as their premier Certified Distributor for their Factory Automation series of lenses," said Rusty Ponce de Leon, CEO of Phase 1 Technology. "Ricoh's high-performance FA lenses allows us to offer our OEM, system integrator and end-user customers a high quality yet cost effective solution for a wide range of industrial applications."
Phase 1 Technology offers Ricoh C-mount, F-mount, and K-mount lenses. Featuring resolutions from 1.5 to 9 Megapixels, Ricoh's FA series of lenses are designed for high-precision applications such as wafer inspection, robotics, and electronic pick and place machines.
More information about Ricoh industrial lens offerings and product specifications can be found at www.phase1vision.com/lenses/ricoh-lenses or by calling (631) 254-2600.