Phase 1 Technology Celebrates 25 Years in Machine Vision
Leading vision industry distributor of industrial cameras and components remembers the early days with Sony and the dawn of the machine vision industry.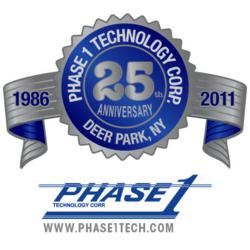 This year marks the 25th anniversary of Phase 1 Technology Corp., one of the nation's oldest and most trusted vision industry distributors of industrial cameras, lenses, lighting, frame grabbers, software, cables and integrated solutions for factory automation, defense, laboratory, machine vision, medical, pharmaceutical, robotics, and other industrial applications.

"We've had the great fortune of not only watching the machine vision industry grow, but to be an integral part of it since the beginning," stated Rusty Ponce de Leon, President & Owner of Phase 1 Technology Corp., who started with Sony 25 years ago when they were the only company with industrial cameras. Phase 1 has since established relationships with several other industry leading manufacturers such as, CEI, CIS, DALSA Teledyne, Fujinon, Hitachi, JAI, Midwest Optical, Pentax, Tamron and others.

"Possibly one of our proudest achievements," stated Ponce de Leon, "is the relationships we've developed with our principals. We continue to lead the industry in the support we provide them through structured MARCOM efforts, which include lead tracking, specialized marketing campaigns, and a variety of business development programs. Our philosophy is one of working together with our manufacturers in an effort to solve complex vision applications and to continually evolve within the industry to provide technically advanced solutions that will allow the overall industry to expand into new and emerging markets.

Our active involvement in the industry overall allows us to provide customers with the latest product innovations. We continue to add products and services valuable to both existing and emerging markets, such as nanotechnology and alternative energy, as well as the evolving needs of automation, robotics, and the semiconductor industries. Testament to the quality of the products and services we provide is our long-standing customer relationships, and the ability of our knowledgeable, professional team to provide such excellent service that our customer base continues to expand year over year."

Phase 1 Technology continues to be recognized for maintaining one of the most extensive inventories of cameras, cables, filters, lenses, lighting, image acquisition boards, software, and other vision components. "This ensures our principals that their products are always readily available for new designs, and that we can fulfill our customer's requirements with on-demand shipping," said Ponce de Leon.
By maintaining an active involvement with the industry's largest trade organizations, Rusty continues to successfully lead Phase 1 Technology to meet the changing needs of the ever-expanding vision markets. He is currently Chairman of the AIA (Automated Imaging Association), and a board member of the ATC (Automated Technology Council), which represents the three global industrial organizations RIA (Robotic Industry Association), MCA (Motion Control Association), and the AIA.
Phase 1 Technology will celebrate its 25th Anniversary at a private event planned for October.
About Phase 1 Technology Corp.
Phase 1 Technology Corp. is one of the vision industry's leading and oldest premiere distributors of machine vision cameras, cables, filters, frame grabbers, lenses, lighting, software, and integrated solutions. Established in 1986, the company has been serving the world's leading OEMs, laboratories, end-users, universities, government, and military since the dawn of the machine vision industry. Founder & Owner, Rusty Ponce de Leon, continues to lead the company's growth as President. For information please visit: http://www.phase1vision.com.