Perfectly Synchronized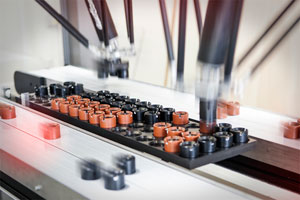 B&R fuses material handling and production
Automation technology from B&R makes it easy to achieve precise synchronization of conveyor belts and robots. The company's readily configurable PLCopen function blocks can be used to implement conveyor belt tracking.
An increasing number of processes in production lines require synchronization with conveyor belts. Ensuring the high levels of speed and precision needed to accomplish this used to require highly complex control solutions. Production lines with conveyor belt tracking have an advantage. Since the production process never comes to a stop, they can achieve higher production volumes.
Fully integrated robotics
The complexity of these systems is constantly increasing, with the presence of robots becoming more and more common. Their tasks range from simple sorting to complex product processing on running conveyor belts. The PLCopen function blocks from B&R can be used for all types of robot kinematics and even allow robots to be synchronized with multiple conveyor belts. The interfaces are also ideally suited for integrating HMI applications for all types of kinematic systems.
The robot can move freely during the synchronization phase, which also enables complex product manipula-tion. A special feature of the B&R solution is that the conveyor belt is fully integrated in the application. An external sensor that supplies information about the current position of the conveyor belt is all that is needed.
Hardware-independent
The conveyor belt tracking solution from B&R is hardware-independent, which allows the use of different drive systems with different kinematics. The application can be created quickly and easily upgraded at a later time. The robot can be replaced or the conveyor belts can be upgraded at any time without a significant amount of application engineering work. A large portion of the software can be used as-is.
About B&R
As a global leader in industrial automation, B&R combines state-of-the-art technology with advanced engineering to provide customers in virtually every industry with complete solutions for machine and process automation, motion control, HMI and integrated safety technology. With industrial fieldbus communication standards like POWERLINK and openSAFETY as well as the powerful Automation Studio software development environment, B&R is constantly redefining the future of automation engineering.
B&R Industrial Automation, Inc. North America, based in Atlanta, GA, has been working closely with its customers since 1987. Since then, B&R North America has continuously grown as a sales and support organization through both direct sales offices and B&R's unique Automation Partner distribution network. Today, B&R North America has a network of more than 25 offices throughout the USA and Canada and is there for its customers locally.
Company Contact
Yvonne Eich - Marketing Communications Manager
Tel: +1 (770) 772-0400 - 3242