Pepperl+Fuchs Showcases Sensing Technologies at Valve World Americas Expo 2019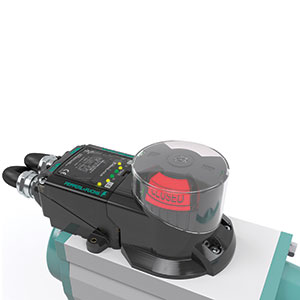 Comprehensive portfolio designed for use in harsh environments.
TWINSBURG, OH — Sensors and systems are indispensable to modern automated process plants in harsh and hazardous areas. From position feedback on valve actuators to limit detection on positioners, Pepperl+Fuchs has developed a broad range of industrial sensors and sensor systems for a wide variety of applications including chemical, pharmaceutical, oil and gas, food and beverage, pulp and paper, and water/wastewater treatment.
This June 19 – 20 at the Valve World Americas Expo, Pepperl+Fuchs will be highlighting patented 2:1 technology for hazardous areas and the F31K2 valve position sensor.
Patented 2:1 Technology
Patented 2:1 technology from Pepperl+Fuchs offers a potential savings of 50% on sensor wiring needs in hazardous areas. Signals from NAMUR sensors can be transmitted in pairs to a control device via one line. Two digital sensors are wired antiparallel to one strand pair that is connected to the switch amplifier.
2:1 technology is ideal for system enhancements that require additional signals to be routed via existing and possibly at-capacity field wiring. Pepperl+Fuchs also provides this technology in sensor and valve interface modules for fieldbus applications.
F31K2 Valve Position Sensor
Quarter turn valves often use two independent sensors to provide valve position feedback. Pepperl+Fuchs' double sensor, the F31K2, combines two inductive sensors in one modular package that also includes a high visibility beacon for local on/off position indication. This approach reduces installation and maintenance costs. Durable, noncontact, and wear-free detection makes it ideal for harsh conditions. Mounted directly on a valve actuator, the sensors transmit the valve position to a control system, ensuring absolutely reliable processes.
F31K2 dual sensors are designed for outdoor use with no compromises. The open solution allows status monitoring from a distance with its highly visible integrated valve position indicator and translucent housing. The modular housing design enables easy operation, installation, and diagnostics. The sensor's unique dual housing provides double the mechanical protection and a high IP rating; the housing materials ensure high resistance to UV, temperature, and corrosion. NAMUR Ex i (Zone 0/20) and Ex nA (Zone 2/22) versions are available.
Reliable processes depend on strict standards. Driven by innovative engineering, Pepperl+Fuchs sets global standards for explosion protection technologies where harsh and hazardous conditions are present. Visit Pepperl+Fuchs at booth #327 in Hall D of the Valve World Expo and discover the future of sensing technology.
About Pepperl+Fuchs
Pepperl+Fuchs is a world leader in the design, manufacture, and application of high-quality factory and process automation products and services. Pepperl+Fuchs pioneered the development of proximity sensors 50 years ago and has set the standard for innovation and quality ever since. A perennial Reader's Choice Award winner in both Control and Control Design magazines, Pepperl+Fuchs has also been named by Control magazine and the ARC Advisory Group as one of the Top 50 Global Automation Companies. Pepperl+Fuchs' global headquarters are in Mannheim with a North American base in Twinsburg, Ohio.