Pepperl+Fuchs Releases the 6100 Series Motor Purge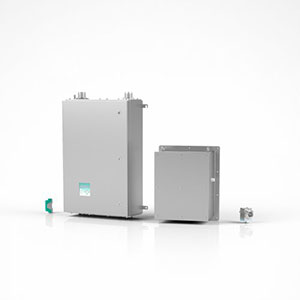 The new motor purge/large enclosure system is the latest member of Pepperl+Fuchs´ Bebco® EPS purge and pressurization family.
Twinsburg, OH —Pepperl+Fuchs, a world leader in process automation, introduces a Bebco EPS® purge and pressurization system designed specifically for use with large motors or large enclosures in Zone 1 hazardous areas. The 6100 series purge and pressurization system can purge an enclosure over 450 cubic feet (12.2 cubic meters), making it the largest purging system available from Pepperl+Fuchs. The 6100 series system is perfect for applications in the chemical/petrochemical and oil and gas industries.
The 6100 series is a fully automatic system that does not require an operator to initiate purging or pressurization. It offers optional temperature sensors that can be mounted around the motor for alarm notification or cooling. Additionally, there is automatic pressure compensation for excess leakage from the motor.
The 6100 system consists of a control unit, vent, low pressure sensor, and optional temperature sensors. The control unit allows users to configure the system for size of motor, temperature switch points, pressure switch points for leakage compensation and shutoff pressure, extra output for control or alarm, two selectable intrinsically safe inputs for various actions, and up to three temperature sensor inputs that can monitor various points within the motor housing. The intrinsically safe user-interface can also be mounted in a separate enclosure near an operator for quick access and easy system monitoring.
6100 series motor purge and pressurization system features:
Certified for ATEX and IECEx Zone 1
Fully automatic
Maximum flow rate of 14,000 l/min
Intrinsically safe user-interface for system programming and monitoring
Control unit monitors system operation and controls enclosure power
Auxiliary contact outputs for alarm or control
Multiple temperature inputs for monitoring and control
Automatic pressure compensation for excess leakage from motor
The intrinsically safe pressure sensor provides an accurate enclosure pressure reading for safe operation within the hazardous area. The pressure sensor—which can measure internal pressure from 0 to 25 mbar—can be remotely located at the motor´s low pressure section for correct, safe motor pressure readings.
The EPV-6100 vent can be ordered to detect various flows for purging and then feedback the signal to the 6100 series control unit to start the purge timer. There are five flow rates to choose from (14,000 l/min maximum) to meet any application requirement in large motors or enclosures.
Additional features of the 6100 series system include system bypass, manual enclosure power on/off, temperature activation of purging for cooling purposes, and delay of power shutdown upon loss of pressure for pressure correction for shutdown procedures.