Pepperl+Fuchs Receives Multiple Awards for Technology and Innovation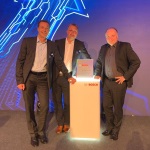 GERMANY – On July 11 at the 16th Bosch Global Supplier Awards ceremony in Blaichach, Germany, Pepperl+Fuchs' commitment to its brand values of collaborative partnership and innovative strength was recognized by Bosch, a world-leading technology and engineering company. The Bosch Global Supplier Award identified Pepperl+Fuchs as one of the best suppliers to the market-leading technology and services company. In total, 47 suppliers from around the globe were honored for their outstanding performance in various categories. Since 1987, The Bosch Group has biennially rewarded outstanding performance in the manufacturing and supply of products and services—notably quality, costs, innovation, and logistics.
"With the Bosch Global Supplier Award, we pay tribute to our best suppliers around the world. The award-winners have achieved outstanding levels of excellence, and work with us in an exceptional spirit of partnership. From technological expertise to logistical quality and entrepreneurial potential—our award-winners have it all," Andreas Reutter, Head of Supply Chain Management at Robert Bosch GmbH, explains.
Additionally, on the occasion of its 100th anniversary, elektrotechnik magazine out of Würzburg, Germany, presented an exclusive group of automation trailblazers with achievement awards. These various pioneers of industrial automation have achieved technologies and developments that are not only cutting-edge in the present, but give a glimpse of the future. Pepperl+Fuchs received the Milestones in Automation Award in the category of "sensor technology."
ABOUT PEPPERL+FUCHS
Pepperl+Fuchs is a world leader in the design, manufacture, and application of high quality factory and process automation products and services. Pepperl+Fuchs pioneered the development of proximity sensors 50 years ago, and continues to set the standard for innovation and quality today. Pepperl+Fuchs has established itself as a partner for globally active operators of automation technology and offers the broadest portfolio of proven components for the requirements of factory and process automation. Pepperl+Fuchs' global headquarters are in Mannheim with a North American base in Twinsburg, Ohio.