Pepperl+Fuchs' New Ultrasonic Sensor Series Offers Absolute Flexibility and Efficiency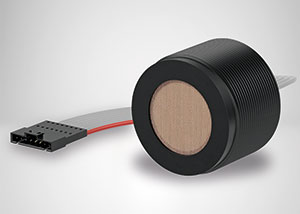 The new UCC*-50GK can be used in both indoor and outdoor applications

(Twinsburg, OH) — Pepperl+Fuchs introduces the new UCC*-50GK series ultrasonic sensor. Only two sensor versions are required for covering a wide range of applications. Intended for distance measurement, the UCC*-50GK uses ultrasonic pulses to measure the distance to the target and reports information through one of three sensor outputs. Versatile configuration options make the sensor incredibly adaptable.
The UCC*-50GK ultrasonic sensor can be integrated into an application without a PLC and is easily incorporated into an existing engineering environment via UART, LIN-Bus, or PWM. UCC*-50GK is also equipped with a power save mode and optimized for battery operation, so it is ready-made for wireless communication where longer operation times are essential.
Versatility is Key
The versatility of the UCC*-50GK is one of its best features. A compact threaded housing design allows the UCC*-50GK to be easily mounted in confined containers, and the sensor's pre-stored sound profiles enable the user to choose a beam width that is ideal for the restricted space. Three unique beam patterns and a sensing range of up to 4 m give users the flexibility to adapt to every possible space constraint. What's more, a power save mode and standby function make operating times even longer. The sensors are also suitable for solar- and battery-powered systems.
With an IP66/67 rating, the UCC*-50GK is equipped for a multitude of applications. A PTFE protective film prevents contaminants from adhering to the transducer, allowing the sensor to be used in harsh outdoor conditions that include moisture, dirt, sand, or grain. Additionally, the sensor's wide ambient temperature range of -25 °C … +70 °C and integrated temperature compensation add to its extreme durability and enable its use in both indoor and outdoor applications.
Applications
The UCC*-50GK is designed for an abundance of application scenarios, including water and wastewater treatment, silo fill monitoring, and recycling and waste management, to name a few. The UCC*-50GK can also be used as a cost-effective collision avoidance device for smaller AGVs and feeding robots. The sensor can be easily integrated into these tight spaces because of its compact housing. Contaminants, which cleaning and feeding robots are constantly exposed to, cannot adhere to the PTFE-protected transducer.
The UCC*-50GK ultrasonic sensor was developed and produced by Pepperl+Fuchs and attests to the company's unique expertise and decades of application experience.
About Pepperl+Fuchs
Pepperl+Fuchs is a world leader in the design, manufacture, and application of high-quality factory and process automation products and services. Pepperl+Fuchs pioneered the development of proximity sensors 50 years ago, and has set the standard for innovation and quality ever since. A perennial Reader's Choice Award winner in both Control and Control Design magazines, Pepperl+Fuchs has also been named by Control magazine and the ARC Advisory Group as one of the Top 50 Global Automation Companies. Pepperl+Fuchs' global headquarters are in Mannheim with a North American base in Twinsburg, Ohio.