Pendant Armor® and Photonics Inc. Team Up to Promote Local STEM Program
WEST CHESTER, OH – Pendant Armor, a product from a world leader in robot protection, Roboworld, has teamed up with their marketing agency, Photonics Inc., to donate $1000.00 to Ross Rambotics, FIRST Robotics Competition Team #3201. Pendant Armor and Photonics Inc. presented the donation to the team in person on October 17th at Ross High School in Hamilton, OH.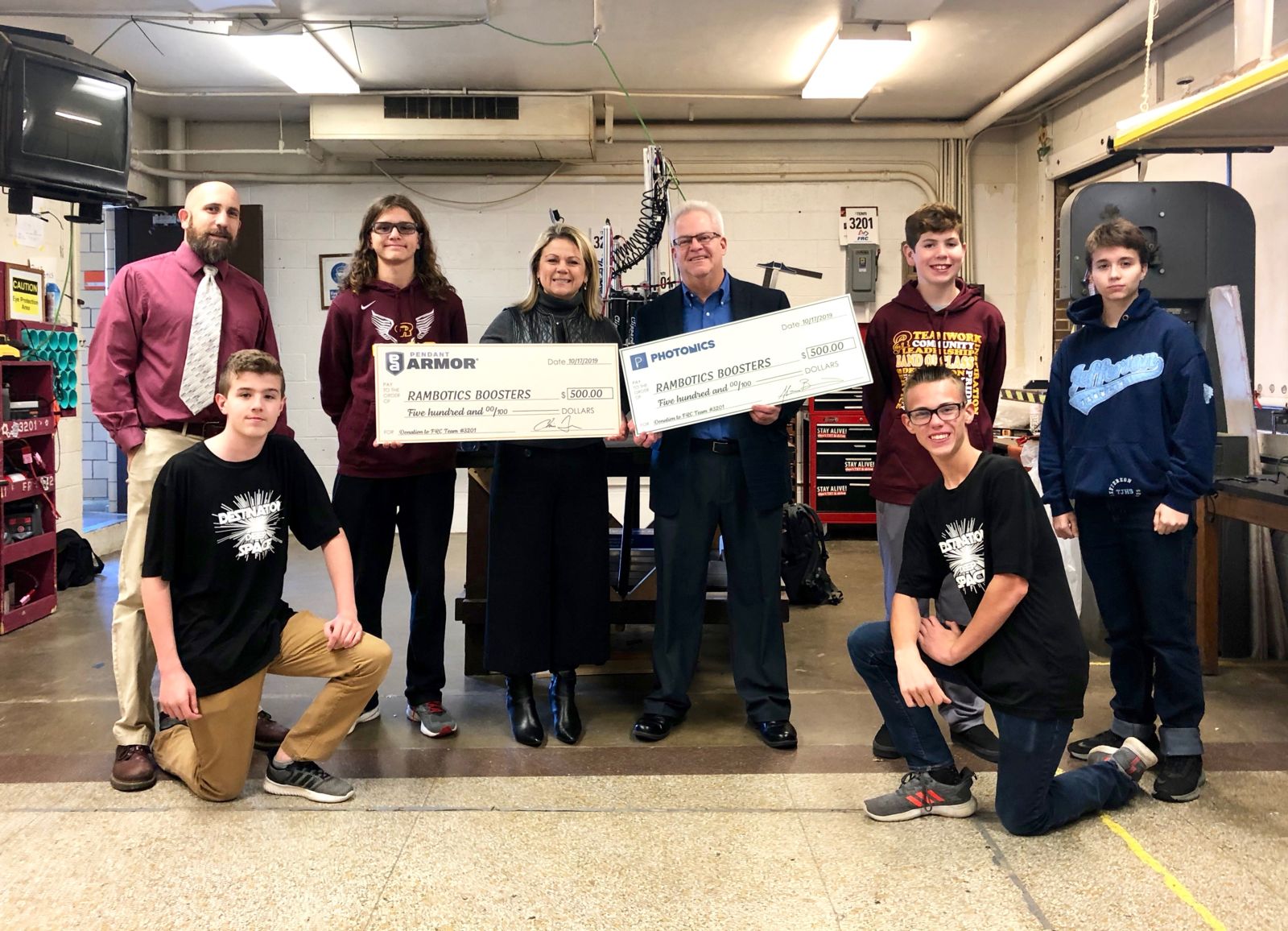 The mission of Ross High School's Rambotics team is to inspire students to build a better future by promoting leadership and STEM skills throughout the Ross community and beyond. "We want to expand our influence, we want to expand our team, and we want to expand our equipment. Our goal is to give kids of all ages the opportunity to experience STEM," says Kyle Jones, RHS science teacher and director of the Rambotics team.
"Robotics is a field that will carry manufacturing into the future. A strong STEM background coupled with early awareness of robotics will position our youth to transition seamlessly into the future workforce," says Kristie Tur, Roboworld's VP of Operations. Roboworld partners with global robotic equipment manufacturers, integrators, and end-users alike to provide unparalleled levels of robot protection. "Donations that empower our youth are an investment in our collective futures. A strong, educated workforce will be a boon to our economy, our standings amongst other nations, and a source of pride for every American worker," adds Chris Tur, CEO and inventor of Pendant Armor.
Tom Hutchinson, Development Director at Photonics Inc., believes, "the STEM education helps introduces secondary students to programs that help build critical thinking skills, increase science literacy, and create the next generation of innovators, in a fun and interesting way." This year Photonics, one of Cincinnati's oldest digital design and marketing firms and proud marketing partner of Roboworld, was listed as one of Cincinnati's Largest Web Design Firms by the Cincinnati Business Courier for the 9th consecutive year.
About Roboworld Molded Products
In 2015, Roboworld Molded Products introduced the world's first shock-absorbing, chemical-resistant bumper to protect teach pendants from damage if they are accidentally dropped or pulled from a work surface. Today, Pendant Armor® is available for six OEM-manufacturers, and over 18-different models of teach pendants. Roboworld partners with OEMs, integrators and end-users alike to provide unparalleled levels of robot protection.