PCIe-9852 Express Digitizer
PCIe-9852 offers high sampling rates and onboard signal averaging for long-term, high-speed data recording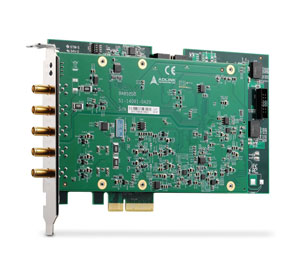 ADLINK Technology, Inc. announces the release of its new high-speed PCI Express digitizer, the PCIe-9852, featuring two simultaneously sampled 200 MS/s input channels with 14-bit resolution, 90 MHz bandwidth, and up to 1 GB DDR3 onboard memory. Highly accurate measurement, up to 800 MB/s data streaming, and onboard signal-averaging technology combine to make the PCIe-9852 ideal for long-term, high-speed data recording applications such as distributed temperature sensing, radar signal testing, and atmospheric science research.
"ADLINK's PCIe-9852 benefits Distributed Temperature Sensing (DTS) applications by enabling significantly increased accuracy in temperature measurement," stated Catherine Wu, product director of ADLINK's Measurement and Automation Product Segment. "The PCIe-9852's two analog inputs simultaneously receive both Stokes and anti-Stokes lines generated in the application, as well as increased high resolution sampling rates meeting requirements for sensing distances of 30 km and more. In addition, onboard signal averaging technology isolates even minor data detected from crowded environments."
High Sampling Rate with Low-distortion Front End and High-dynamic Performance
The PCIe-9852 provides 14-bit high resolution ADC and up to 200 MS/s sampling, delivering 83 dB SFDR, 62 dB SNR, and -81 dB THD, leading the field in high dynamic performance. The PCIe-9852 provides a flexible set of input ranges, ±0.2V, ±2V, or ±10V, software selectable 50Ω or 1MΩ input impedance, and a wide variety of triggering options and tight synchronization capability, all maximizing convenience of use.
Data Streaming Up to 800 MB/s for Real-time, High-speed Data Recording
Based on Gen 2 PCI Express technology, the PCIe-9852 streams data on both channels at maximum data rate (200 MS/s), enabling continuous delivery to the host PC at rates up to 800 MB/s, and a complementary 8 x 500 GB driver RAID system (4 TB) further extends capture sessions beyond one hour. The PCIe-9852 combines high-bandwidth, dual-channel, simultaneous data streaming and built-in memory up to 1 GB for massive data storage, making it ideal for real-time, high-speed data recording.
On-board Signal Averaging Technology
The PCIe-9852 is equipped with onboard Signal Averaging Technology, allowing detection of small repetitive signals in noisy environments, with no CPU loading, suitable for applications requiring extraction of small signals from background noise as occurs in DTS.
ADLINK PCIe-9852 supports multiple operating systems, including Windows 8, Windows 7, Windows XP, and Linux, and is fully compatible with third-party software such as LabVIEW ™ and MATLAB®. Users can simply complete the programming through ADLINK DAQPilot software development kit.
For more information, visit http://www.adlinktech.com.
About ADLINK Technology
ADLINK Technology provides a wide range of embedded computing products and services to the test & measurement, automation & process control, communications, medical, defense, and transportation industries. ADLINK products include PCI Express-based data acquisition and I/O; vision and motion control; and AdvancedTCA, CompactPCI, and computer-on-modules (COMs) for industrial computing. With the acquisition of Ampro Computers, Inc. and LiPPERT Embedded Computers GmbH, ADLINK also provides a wide range of rugged by design Extreme Rugged™ and Rugged product lines including single board computers, COMs and systems.
ADLINK strives to minimize the total cost of ownership (TCO) of its customers by providing customization and system integration services, maintaining low manufacturing costs, and extending the lifecycle of its products. ADLINK is a global company with headquarters and manufacturing in Taiwan; R&D and integration in Taiwan, China, the US, and Germany; and an extensive network of worldwide sales and support offices.
ADLINK is ISO-9001, ISO-14001, ISO-13485 and TL9000 certified, is an Associate Member of the Intel® Intelligent System Alliance, an Executive Member of PICMG, a Sponsor Member of the PXI Systems Alliance, an Executive Member of PC/104 Consortium, a Strategic Member of the AXIe Consortium, and a member of VMEbus International Trade Association (VITA). ADLINK is a publicly traded company listed on the TAIEX Taiwan Stock Exchange (stock code: 6166).
Embedded Vision
This content is part of the Embedded Vision curated collection. To learn more about Embedded Vision,
click here
.