PCIe-7360 PCI Express® Digital I/O Module
Throughput up to 400 MB/s enables faster IC testing and pattern generation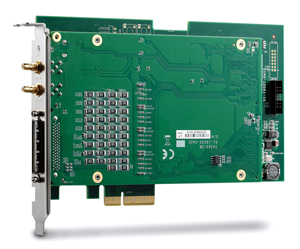 San Jose, CA – ADLINK Technology, Inc., a leading provider of embedded computing products for test & measurement, today announced the release of its new high-speed digital I/O module, the PCIe-7360, which supports up to 100 MHz data rate and 400 MB/s throughput, with parallel and bi-directional 32-channel high-speed I/O lines and 8-channel application function I/Os. Ideally suited to large scale and high resolution digital pattern data acquisition and generation applications, the PCIe-7360 delivers market-leading support for complementary metal–oxide–semiconductor (CMOS) image sensor capture for image performance verification, ADC/DAC testing, digital image transfer to large-scale printer/plotter applications, and digital video recording/playback.
"The requirements of digital imaging for increased resolution and frame rate/update continue to evolve," said Catherine Wu, Director of ADLINK's Measurement and Automation Product Segment. "ADLINK's PCIe-7360 offers leading high-throughput architecture with flexible acquisition/generation timing and triggering features, providing an ideal PC-based solution for high-speed digital pattern acquisition and generation, enhancing testing capability and overall system throughput."
High Throughput with Flexible Timing
ADLINK's PCIe-7360 utilizes a PCI Express x4 interface, with up to 400 MB/s throughput and data rate up to 100 MHz guaranteed, with programmable parallel data width (8/16/24/32-bit). The sampling and updating clock can derive from an internal or external timer pacer, supporting up to 80-step clock phase shift to ensure accurate data sampling and timing updates and prevent invalid timing problems during data transition.
Programmable Function I/O and Logic Level
In addition to high-speed I/O, the PCIe-7360 features extra 8-channel programmable function I/O connections, which can be configured to I2C/SPI master, trigger IN/OUT, external clock IN, digital input/output sample clock exporting, and handshake modes to communicate, control, or synchronize with external devices or devices-under-test (DUT). The logic level of both high-speed and function I/O is software programmable and supports three options, including 1.8V, 2.5V, and 3.3V, for the flexibility to direct the interface with external devices and DUT if different logic levels are required.
The PCIe-7360 supports Windows 8, Windows 7, Windows XP operating systems, and is fully compatible with third-party software such as LabVIEW™ and Visual Studio.NET®. For more information on ADLINK's PCIe-7360, please visit online.
About ADLINK Technology
ADLINK Technology provides a wide range of embedded computing products and services to the test & measurement, automation & process control, gaming, communications, medical, network security, and transportation industries. ADLINK products include PCI Express-based data acquisition and I/O; vision and motion control; and AdvancedTCA, CompactPCI, and computer-on-modules (COMs) for industrial computing. With the acquisition of Ampro Computers, Inc. and LiPPERT Embedded Computers GmbH, ADLINK also provides a wide range of rugged by design Extreme Rugged™ and Rugged product lines including single board computers, COMs and systems.
ADLINK strives to minimize the total cost of ownership (TCO) of its customers by providing customization and system integration services, maintaining low manufacturing costs, and extending the lifecycle of its products. ADLINK is a worldwide company with headquarters and manufacturing in Taiwan; R&D and integration in Taiwan, China, the US, and Germany; and an extensive network of worldwide sales and support offices.
ADLINK is ISO-9001, ISO-14001, ISO-13485 and TL9000 certified, is an Associate Member of the Intel® Intelligent System Alliance, an Executive Member of PICMG, a Sponsor Member of the PXI Systems Alliance, an Executive Member of PC/104 Consortium, a Strategic Member of the AXIe Consortium, and a member of VMEbus International Trade Association (VITA). ADLINK is a publicly traded company listed on the TAIEX Taiwan Stock Exchange (stock code: 6166).
Embedded Vision
This content is part of the Embedded Vision curated collection. To learn more about Embedded Vision,
click here
.