PCI Express x8 Frame Grabber for High Bandwidth Camera Link Cameras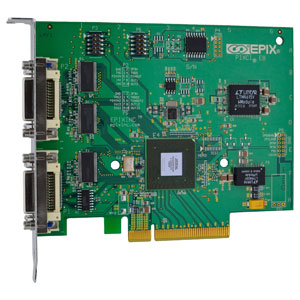 The PIXCI® E8 frame grabber supports the fastest camera link cameras and more than 900 Extended, Full, Medium, Base, dual Base, and PoCL configuration Camera Link cameras. The PIXCI® E8 has 64 bit addressing which allows capturing images to terabytes of computer memory or disk drives. Multiple PIXCI® E8 frame grabbers can be used in a computer to capture from multiple cameras or to capture from cameras with more than two Camera Link connectors. The PIXCI® E8 is $1295.00 with XCAP-Lite imaging program.
Product page: http://www.epixinc.com/products/pixci_e8.htm.