PCI-3970 Series 3U Compact PCI Plus IO Compatible Processor Blade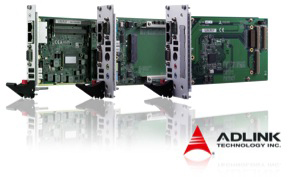 ADLINK Technology Inc., a leading supplier of industrial building blocks, introduces the cPCI-3970 Series, the first 3U CompactPCI PlusIO compatible processor blade in its product lineup that supports high-speed serial point-to-point connections. The ADLINK cPCI-3970 Series is equipped with the latest quad and dual core 2nd Generation Intel® Core™ i7/i5 processor?also known as Sandy Bridge?with ECC memory support, and the Intel® QM67 Platform Controller Hub (PCH). It is a high performance solution for applications in industrial control and automation, transportation, and medical segments that require enhanced graphics capabilities, ECC memory and high speed I/O interconnects.
The cPCI-3970 Series includes two blade types based on the same electrical and mechanical design: the cPCI-3970 which is equipped with HM connectors, and the fully PICMG 2.30 compliant cPCI-3971 which features an Ultra Hard Metric (UHM) J2 connector with a data transfer speed of 5 Gb/s. Both products are compatible with the CompacPCI PlusIO pin assignment and support PCI Express Gen2 x4, three SATA ports, three USB 2.0 ports and two Gigabit Ethernet ports at the J2 connector.
"ADLINK's cPCI-3970 Series has an outstanding performance-per-watt ratio and is designed for maximum interoperability, expandability and flexibility," states Eric Kao, Director of ADLINK's Modular Computing Product Center. "CompactPCI PlusIO compatability allows the cPCI-3971 to be electrically and mechanically backward compatible with CompactPCI and paves a smooth path for upgrading the legacy CompactPCI parallel bus to modern high speed serial interfaces. It can work in hybrid backplanes with a legacy 32-bit/33MHz CompactPCI bus for existing CompactPCI peripherals and modern high speed point-to-point serial connections. The cPCI-3970 Series is well suited for the requirements of today's embedded applications."
"ADLINK's cPCI-3970 Series is equipped with the 2nd Generation Intel® Core™ i7 processor and the Intel® QM67 PCH. This powerful combination provides built-in HD graphics, smart multi-tasking capabilities and improved power efficiency. Intel® Hyper-Threading Technology and Intel® Turbo Boost Technology 2.0 are supported to use processor resources more efficiently with multiple threads to running on each core and dynamically adapt processor frequency to match the workload," said Matt Langman, marketing director of Intel's Embedded Computing Division."
The cPCI-3970 Series is a 3U CompactPCI blade with rich features for different applications. For high density computing applications, it can operate in a system slot as a master or in a peripheral slot as a standalone blade. In addition, the cPCI-3970 Series is compliant with the PICMG 2.9 specification and supports system management functions based on the Intelligent Platform Management Interface (IPMI) as well as hardware monitoring of physical characteristics such as CPU and system temperature, DC voltages and power status. With different riser cards installed and the addition of a Rear Transition Module (RTM), the cPCI-3970 Series provides versatile I/O interfaces up to two DisplayPort/DVI/HDMI, four serial ports, four SATA ports, five USB 2.0 ports, four GbE ports, PS/2 KB/MS, audio ports, and one PMC/XMC site for expansion flexibility. Trusted Platform Module (TPM 1.2) is also supported to provide efficient hardware-based data protection.
The cPCI-3970 Series supports up to two dual-mode DisplayPorts for dual independent digital display outputs. The DisplayPort supports single link DVI or HDMI by passive adapter cable and analog VGA interface by active adapter cable. With the ADLINK XMC-G460 graphics module installed in the XMC site, the cPCI-3970 Series supports up to four independent displays. Storage interfaces supported by the cPCI-3970 Series include one SATA 6 Gb/s direct connector for a 2.5" HDD/SSD, CompactFlash socket, CFast socket and three SATA ports on RTM with RAID 0/1/5/10 support.
The ADLINK cPCI-3970 Series supports the following operating systems: Microsoft Windows® XP, Microsoft Windows® 7, RedHat Enterprise Linux 6 and VxWorks. The ADLINK cPCI-3790D with i5-2515E CPU and 4G DDR3 memory is available now.

For more ADLINK CompactPCI product information and to request a pricing quote, please visit: http://www.adlinktech.com/cPCI/.
About ADLINK
ADLINK Technology provides a wide range of embedded computing products and services to the test & measurement, automation & process control, gaming, communications, medical, network security, and transportation industries. ADLINK products include PCI Express®-based data acquisition and I/O; vision and motion control; and AdvancedTCA, CompactPCI, and Computer-on-Modules (COMs) for industrial computing. With the acquisition of Ampro Computers, Inc., ADLINK also provides a wide range of Extreme Rugged and Rugged Single Board Computers, Computer-on-Modules and Systems under the brand name Ampro by ADLINK. ADLINK strives to minimize the total cost of ownership (TCO) of its customers by providing customization and system integration services, maintaining low manufacturing costs, and extending the lifecycle of its products. ADLINK is a global company with headquarters and manufacturing in Taiwan; R&D and integration in Taiwan, China, and the US; and an extensive network of worldwide sales and support offices.
ADLINK is ISO-9001, ISO-14001, ISO-13485 and TL9000 certified, is an Associate Member of the Intel® Embedded Alliance, an Executive Member of PICMG, and a Sponsor Member of the PXI Systems Alliance. ADLINK is a publicly traded company listed on the TAIEX Taiwan Stock Exchange (stock code: 6166).