Parker Releases Versatile and High-performance Intelligent Parker Amplifier Servo Drive/Controller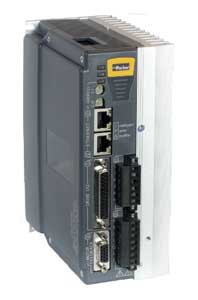 Parker's Electromechanical Automation Division, a leading supplier of motion control technology, is pleased to announce the release of the Intelligent Parker Amplifier (IPA). The IPA is a 1.5-axis servo drive/controller based on the ACR control platform. Available in two power levels—400W and 1500W—the IPA can drive a wide range of rotary and linear motors and supports a number of industry standard feedback protocols. The IPA provides a dual port Ethernet interface, which gives the user a variety of different machine control options.

The robust Ethernet implementation in the IPA provides outstanding performance in HMI-, PC- and PLC-based applications. The IPA supports EtherNet/IP as an adapter device, making it an excellent option as a servo drive in an Allen Bradley CompactLogix- or ControlLogix-based system and has been EtherNet/IP CONFORMANCE TESTED by the ODVA. Parker has developed a library of Add-On Instructions (AOI) for use in the Logix environment, giving the programmer an easy yet powerful set of tools to incorporate high-performance servo control in familiar software environment.

Using standard TCP/IP communications, the IPA is configured and programmed within the ACR-View software environment using the well-known and highly flexible AcroBASIC programming language. A 650Mhz TI DSP gives the IPA significant processing power, capable of serving up to five independent Ethernet connections and managing the multi-tasking ACR operating system at speeds that rival the highest performance controllers in the industry.

Motion and machine control features of the IPA include:
Multitasking of up to 16 different tasks
Incremental, absolute and continuous moves
Trapezoidal and S-curves profiles
High-speed (1 ms) position captures
Registration moves
Electronic gearing and camming
Combined with Parker's Interact Xpress HMI platform, the IPA becomes an affordable machine control solution. Xpress supports connections to multiple IPAs and other PLCs at the same time, with an easy-to-use development environment and award-winning graphics.

For more information on Parker's IPA line, please visit online.
About Parker Electromechanical Automation
A division of Parker Hannifin Corporation's Automation Group since 1987, Electromechanical Automation is a pioneer, developer and manufacturer of full-spectrum computer-based motion controllers, servo/step motor drives, servo motors and human-machine interfaces, positioning systems, gearheads and gear motors. These products automate the manufacturing of a significant fraction of the world's goods and services. Electromechanical Automation products are sold via independent authorized Automation Technology Centers—a group of nearly 100 professional, highly trained organizations with more than 135 points-of-presence throughout the world—or directly from Electromechanical Automation by logging on to buy.compumotor.com. An informative and up-to-date Web site with downloadable libraries, tutorials, and background information on motion control and automation is located at www.parkermotion.com.

About Parker Hannifin
With annual sales exceeding $13 billion in fiscal year 2014, Parker Hannifin is the world's leading diversified manufacturer of motion and control technologies and systems, providing precision-engineering solutions for a wide variety of mobile, industrial and aerospace markets. The company employs approximately 57,500 people in 50 countries around the world. Parker's engineering expertise and broad range of core technologies uniquely positions the company to solve some of the world's greatest engineering challenges. By partnering with customers, Parker improves their productivity and profitability and seeks new ways to solve humanity's biggest challenges.