Parker - MX45S linear positioner
Miniature positioner is based on the award-winning MX80 family.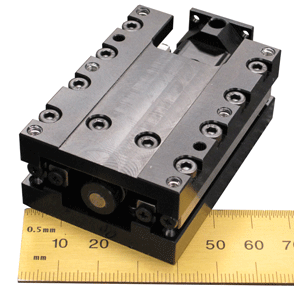 Parker's Electromechanical Automation Division, a leading supplier of motion control technology, is pleased to announce the release of its MX45S linear positioner. The MX45S is a 45 mm wide miniature screw-driven positioner based on the award-winning MX80 family. Like its predecessor, the MX45S has been engineered for OEMs requiring reliable linear positioning in space-restricted applications.
Designed with anti-cage creep cross roller bearings, this positioner allows users to position up to 7 kg (15.4 lbs) of normal load on the available three standard travel lengths (5 mm, 15 mm and 25 mm). The MX45S can be supplied with a high-efficiency leadscrew or a high- precision ballscrew, both of which are capable of producing 40 N of thrust at linear velocities of 20 mm/s and 30 mm/s respectively.
Ideal applications for the MX45S include biomedical imaging, fiber optic alignment, semiconductor inspection and laser diode research.
"The MX45S is designed for applications requiring small incremental movements, micron repeatabilities, smooth motion and high stiffness, all in an ultra-compact package," says Michael Szesterniak, product manager. "In addition to superior performance, the MX45S is offered with several standard options to allow users to match the positioner's performance with the application's requirements."
Additional design features include:
Ultra-compact profile (25 mm high X 45 mm wide X 65, 75 or 90 mm long)
30 mm/s max velocity
Stepper motor driven
Standard multi-axis configurations
In addition to the standard features designed into the MX45S, there are several options available to help match the positioner's performance to the application requirements. These options include rotary and linear encoders, digital limit/home sensor packs and the ability to order and receive one of 11 pre-engineered multi-axis systems.
About Parker Electromechanical Automation
A division of Parker Hannifin Corporation's Automation Group since 1987, Electromechanical Automation is a pioneer, developer and manufacturer of full-spectrum computer-based motion controllers, servo/step motor drives, servo motors and human-machine interfaces, positioning systems, gearheads and gear motors. These products automate the manufacturing of a significant fraction of the world's goods and services. Electromechanical Automation products are sold via independent authorized Automation Technology Centers—a group of nearly 100 professional, highly trained organizations with more than 135 points-of-presence throughout the world—or directly from Electromechanical Automation by logging on to buy.compumotor.com.
About Parker Hannifin
With annual sales exceeding $10 billion, Parker Hannifin is the world's leading diversified manufacturer of motion and control technologies and systems, providing precision-engineered solutions for a wide variety of commercial, mobile, industrial and aerospace markets. The company employs more than 57,000 people in 43 countries around the world. Parker has increased its annual dividends paid to shareholders for 50 consecutive years, ranking it among the top five longest-running dividend-increase records in the S&P 500 index.