Parker Motor Powers Brammo's New Electric Race Bike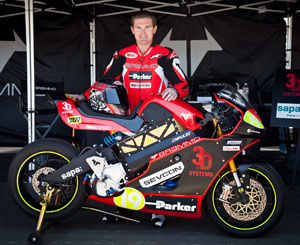 Rohnert Park, CA — Parker's Electromechanical Automaton Division, a leading supplier of motion control technology, is proud to announce that its MPP series traction motor powers an all-electric motorcycle built by Brammo Inc., a 100% clean-technology company. The bike is built for speed and was recently unveiled at the Red Bull US Grand Prix at the Mazda Raceway in Laguna Seca, Calif., where a major race took place as part of the FIM e-power race series. It was the perfect venue to display the bike's sleek lines and spark the interest of competitors and enthusiasts alike as they wait in anticipation for the next race in the series.
"The Brammo engineering team has been an exceptional group to work with," says Jay Schultz, Parker product manager. "They exemplify what high-performance engineering is all about, which parallels Parker's commitment to engineering our customers' success. And it shows in this bike."
Designed for the demanding applications found in today's high-performance electric and hybrid vehicles, Parker's MPP traction motors offer lower weight and higher power, all in a smaller package than other traction motors. Parker's MPP motors include an innovative winding design and Parker's exclusive dual-cooling implementation, which features a patent-pending internal cooling technology. This design yields up to 40% higher torque per unit size than conventionally constructed permanent magnet motors and can deliver 20kW – 350kW of power with 97% efficiency.
When the bike makes its debut in September, leaders in the racing circuit will have a serious new contender vying to capture the winning trophy. Brammo plans to market a street version of the race bike for the commercial market next year. Brammo and Parker are working through the details around a smaller MPP motor for the production version.
"Working with Parker has been an outstanding, positive experience," says Roger Gerson, Brammo's electrical engineering manager. Gerson and his team designed the gear-reduction enclosure that houses the MPP motor, working closely with Parker in a very compressed timeframe. "We've leveraged Parker's leading-edge R&D work and stretched it to the max."
About Parker Electromechanical Automation
A division of Parker Hannifin Corporation's Automation Group since 1987, Electromechanical Automation is a pioneer, developer and manufacturer of full-spectrum computer-based motion controllers, servo/step motor drives, servo motors, PMAC traction motors and generators and human-machine interfaces, positioning systems, gearheads and gear motors. These products automate the manufacturing of a significant fraction of the world's goods and services – including powering electric and hybrid vehicles. Electromechanical Automation products are sold via independent authorized Automation Technology Centers—a group of nearly 100 professional, highly trained organizations with more than 135 points-of-presence throughout the world—or directly from Electromechanical Automation by logging on to buy.compumotor.com. An informative and up-to-date Web site with downloadable libraries, tutorials, and background information on motion control and automation is located at www.parkermotion.com.
About Parker Hannifin
With annual sales exceeding $10 billion, Parker Hannifin is the world's leading diversified manufacturer of motion and control technologies and systems, providing precision-engineered solutions for a wide variety of commercial, mobile, industrial and aerospace markets. The company employs more than 57,000 people in 43 countries around the world. Parker has increased its annual dividends paid to shareholders for 50 consecutive years, ranking it among the top five longest-running dividend-increase records in the S&P 500 index. For more information, visit the company's Web site at parker.mediaroom.com or its investor information site at www.phstock.com.
About Brammo
Brammo Inc is a leading electric vehicle technology company headquartered in North America. Brammo designs and develops electric vehicles including the award winning Brammo Enertia motorcycle. Brammo is an OEM supplier of its innovative Brammo Digital Drivetrain™ systems including the Brammo Power™ battery pack and Brammo Power™ vehicle management system. Brammo has vehicle distribution and marketing operations in North America, Europe and Asia. www.brammo.com.