Parker - Light Capacity Rodless (LCR) Actuator Series
The Parker LCR Series offers a complete screw- or belt-driven actuator, including motor and drive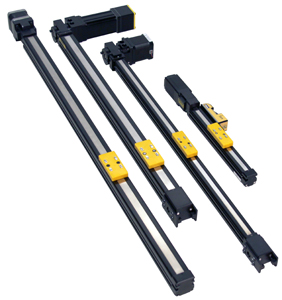 Parker's Electromechanical Automation Division is pleased to announce the release of the new Light Capacity Rodless (LCR) Actuator Series. The LCR offers users the ability to purchase a complete engineered motion solution with an optional onboard stepper drive. Simply send a step-and-direction pulse for complete, easy-to-use motion in a compact footprint. The LCR Series offers users two profile sizes, belt- or screw-drive options, stepper or servo motors, flush mount, home and limit sensors, and many more standard configurable options.
"The LCR series raises the bar for this miniature actuator category," said Ben Furnish, Market Development Manager at Parker. "Parker is able to offer a complete unit with a stainless steel seal, integrated profile bearing rail or glider bushing. Pairing it with Parker's new ion drive gives the users best-in-class system capability. This results in quick prototype projects and the right value for high-volume OEM applications."
The LCR offers a broad range of options, including:
2 lead screw-drive options
2 belt-drive options
22mm or 30mm profile widths
The longest travel lengths in the industry at this size: up to 1m
Stepper or servo motor options
Custom motor flange designs to quickly mount any motor
Flush mount NPN, PNP, normally open or normally closed limit sensors
Magnetically coupled stainless steel sealing strip
New Parker ion drive for quick and easy connections to PLC or other motion controllers.
About Parker Electromechanical Automation
A division of Parker Hannifin Corporation's Automation Group since 1987, Electromechanical Automation is a pioneer, developer and manufacturer of full-spectrum computer-based motion controllers, servo/step motor drives, servo motors and human-machine interfaces, positioning systems, gearheads and gear motors. These products automate the manufacturing of a significant fraction of the world's goods and services. Electromechanical Automation products are sold via independent authorized Automation Technology Centers—a group of nearly 100 professional, highly trained organizations with more than 135 points-of-presence throughout the world—or directly from Electromechanical Automation by logging on to buy.compumotor.com. An informative and up-to-date Web site with downloadable libraries, tutorials, and background information on motion control and automation is located on our website.