Parker Hannifin Releases ACRView Motion Development Software With Full Windows 10 Support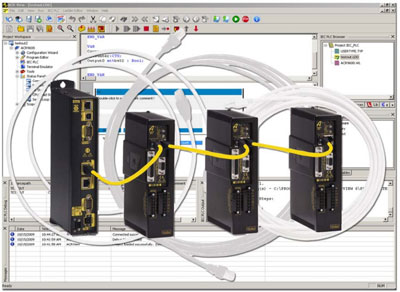 ACRView version 6.4.2 allows users to develop with Windows 10
Rohnert Park, CA - Parker's Electromechanical and Drives Division North America is pleased to announce the release of ACRView version 6.4.2, which allows users to develop applications using the Windows 10 operating system from Microsoft.
ACRView is a powerful code-development tool that assists users of ACR controller and IPA drive products to program, debug, and commission their application. Several features are incorporated to assist both the novice and expert users in developing code. This powerful motion development software is designed to please both existing users with requested new features and new users with an intuitive, step-by-step configuration wizard with up-to-date help files.
ACRView 6.4.2 also supports Windows 7 and 8 and is available for free at https://www.parkermotion.com/scripts/support_downloads.asp#ACRVV
About Parker Electromechanical and Drives Division
A division of Parker Hannifin Corporation's Motion Systems Group since 1987, Electromechanical Automation is a pioneer, developer and manufacturer of full-spectrum computer-based motion controllers, AC/DC/servo/step motor drives, servo motors and human-machine interfaces, positioning systems, gearheads and gear motors. These products automate the manufacturing of a significant fraction of the world's goods and services. Electromechanical Automation products are sold via independent authorized Automation Technology Centers—a group of nearly 100 professional, highly trained organizations with more than 135 points-of presence throughout the world. An informative and up-to-date Web site with downloadable libraries, tutorials, and background information on motion control and automation is located on our website.
About Parker Hannifin
Parker Hannifin is a Fortune 250 global leader in motion and control technologies. For 100 years the company has engineered the success of its customers in a wide range of diversified industrial and aerospace markets.