Parker Hannifin Corporation Launches the Free Parker T-Slot Aluminum Design Architect Tool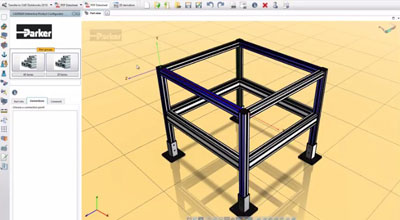 revolutionary software that gives professionals in areas such as Lean, EHS, Production, Safety and Maintenance-- in addition to DIY users -- the ability to design and create products from Parker T-slot aluminum framing components
ROHNERT PARK, Calif. - Parker's Electromechanical and Drives Division North America is pleased to announce the release of the Parker T-Slot Aluminum Design Architect, which enables users of any skill level to quickly and easily design products from Parker T-slot aluminum framing components.
The software takes the challenging task of designing products from T-slot aluminum and makes it as simple as building with snap-together blocks. Available as a free download on the Parker website, the software has been lauded by Parker design centers, professional users, and DIYers for its simple, easy-to-use interface, on-the-fly BOM generation, and instant quote capabilities.
Parker's T-slot aluminum framing is the material of choice for assembling an unlimited variety of bases, frames, linear slide systems, safety guarding, enclosures, worktables, material handling systems, and other structures. The modular T-slot aluminum profile system offers so much flexibility and cost savings in engineering, fabrication, and assembly that it has become the preferred material for a multitude of applications.
Formerly, to design a product with T-slot aluminum, engineers would create the various profiles, connectors, fasteners and accessories within their CAD system. They would then create their design by manipulating each component. Upon completion, they would manually create a bill-of-materials and send to Parker for a quote. If the user did not have CAD access they would often send Parker a "napkin sketch," for the Parker engineering team to interpret, design and quote. This would often require three to five iterations, taking significant time and effort for the customer and the Parker team.
"It's so easy, anyone can do it," says Mario Mitchell, Parker's T-Slot Aluminum Framing product manager. "The entire process has been streamlined and simplified with the end-user in mind. This simple, standalone system requires no CAD access or previous engineering experience; they download and start creating in minutes. Designs will be more accurate the first time and iterate much faster. One of my favorite features is how all of the fasteners and connectors are automatically generated for the design and everything is added to the BOM. When they are done designing, the user can email the BOM to us and we can get a price quote right back to them."
While no CAD access or experience is required to use the tool, there are advanced features and outputs that will appeal to professional engineers and systems integrators, including .stp files and native CAD output to Dassault SolidWorks®, Autodesk Inventor®, and PTC CREO®.
"This tool isn't just for the home user," adds Jay Hopper, COO of CADENAS PARTsolutions. "There are some powerful features that will really appeal to pro users. For engineers who are integrating their Parker T-slot aluminum assembly into a larger design, they can instantly export projects from the T-slot aluminum design architect to their CAD application. If they're looking to share the design with a purchasing department, they can instantly generate a 3D PDF cut sheet, with all of the details for their specific design. Anyone who has ever used T-slot aluminum profiles is going to love this tool."
Parker Hannifin T-slot Aluminum Design Architect Features:
Free download
Easy to use
Standalone tool – No CAD required
System pre-loaded with Parker components and guidelines
On-the-fly BOM (bill-of-materials) with quick quote capability
Instantly populates necessary connectors and fasteners
Native CAD output to Dassault SolidWorks®, Autodesk Inventor®, and PTC CREO®
Tailored 3D PDF data sheets for every project
The Parker-Hannifin T-Slot Aluminum Design Architect is available as a free download now at parker.com/ipsor parker.com/designarchitect.
About Parker Electromechanical and Drives Division
A division of Parker Hannifin Corporation's Motion Systems Group since 1987, Electromechanical Automation is a pioneer, developer and manufacturer of full-spectrum computer-based motion controllers, AC/DC/servo/step motor drives, servo motors and human-machine interfaces, positioning systems, gearheads and gear motors. These products automate the manufacturing of a significant fraction of the world's goods and services. Electromechanical Automation products are sold via independent authorized Automation Technology Centers—a group of nearly 100 professional, highly trained organizations with more than 135 points-of presence throughout the world. An informative and up-to-date Web site with downloadable libraries, tutorials, and background information on motion control and automation is located at www.parker.com/emn
About Parker Hannifin
Parker Hannifin is a Fortune 250 global leader in motion and control technologies. For 100 years the company has engineered the success of its customers in a wide range of diversified industrial and aerospace markets. Learn more at [www.parker.com]www.parker.comor @parkerhannifin.
About CADENAS PARTsolutions
CADENAS PARTsolutions is a leading provider of next generation 3D part catalog management and sales configuration solutions. For large manufacturers, CADENAS PARTsolutions provides centralized 3D parts libraries making it easy for global design teams to find, reuse, and control standard and proprietary parts. For component manufacturers, CADENAS PARTsolutions provides 3D product catalogs with digital CAD download technology, helping businesses increase sales lead generation and to ensure that components get "designed in" to OEM products.