Parker - ETH Series Electrical Cylinder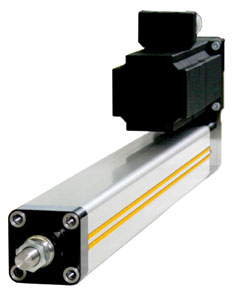 Parker's Electromechanical Automation Division, a leading supplier of motion control technology, is pleased to announce the release of its ETH Series electric cylinder. The Parker ETH series is a next-generation rod-style actuator based upon the well-known, widely-used ET Series. This ground-up redesign offers unrivaled power density due to the use of oversized ballscrews and thrust bearings in traditional package sizes. The result is a product that is capable of increased force output form a given frame size, or increased product life at the same force output.
Available in three profile sizes, the ETH can be ordered with either in-line or parallel motor mounting configurations. A choice of three leads per profile size allows the user the flexibility to match the actuator's performance to the application's requirements.
The ETH series combines unparalleled design with a variety of options that make it easy to integrate into both new and existing applications. Designed around hard metric ISO standards, the ETH Series can mount into existing fluid power cylinder applications, adding infinite programmability to the durability and long life expected from hydraulic and pneumatic cylinders.
The ETH electric cylinder closes the gap between electromechanical and hydraulic cylinder performance, making it suitable to use in higher force applications where increased reliability is required in the production process. "Taking the costs of the hydraulic system components into consideration, you will find that in most cases, an electromechanical system such as the ETH electric cylinder offers the more economical solution," says Michael Szesterniak, product manager.
Combined with a wide choice of accessories, the ETH offers many possibilities in the following applications:
Test equipment and laboratory
Valve and flap actuation
Pressing
Packaging machinery
Food and beverage process automation
Material handling and feed systems, including: wood and plastic working, vertical actuators for machine tool loading, textile tensioning/gripping, automotive component transport/feeding
Additional design features include:
Class 7 ballscrew with ground nut
Angular contact thrust bearings
Ground and polished stainless steel thrust tube
Patent-pending parallel timing belt tensioning station
Anodized aluminum cylinder body with integral sensor slots
Optional flush mount home and limit sensors
About Parker Electromechanical Automation
A division of Parker Hannifin Corporation's Automation Group since 1987, Electromechanical Automation is a pioneer, developer and manufacturer of full-spectrum computer-based motion controllers, servo/step motor drives, servo motors and human-machine interfaces, positioning systems, gearheads and gear motors. These products automate the manufacturing of a significant fraction of the world's goods and services. Electromechanical Automation products are sold via independent authorized Automation Technology Centers—a group of nearly 100 professional, highly trained organizations with more than 135 points-of-presence throughout the world—or directly from Electromechanical Automation by logging on to buy.compumotor.com.