Pallet Builder Simplifies Robotic Palletizing Systems with Code-Free Capability
Dayton, OH — Expanding Smart Pendant capability, the easy-to-use Pallet Builder™ extension enables quick development and deployment of palletizing cells. Designed for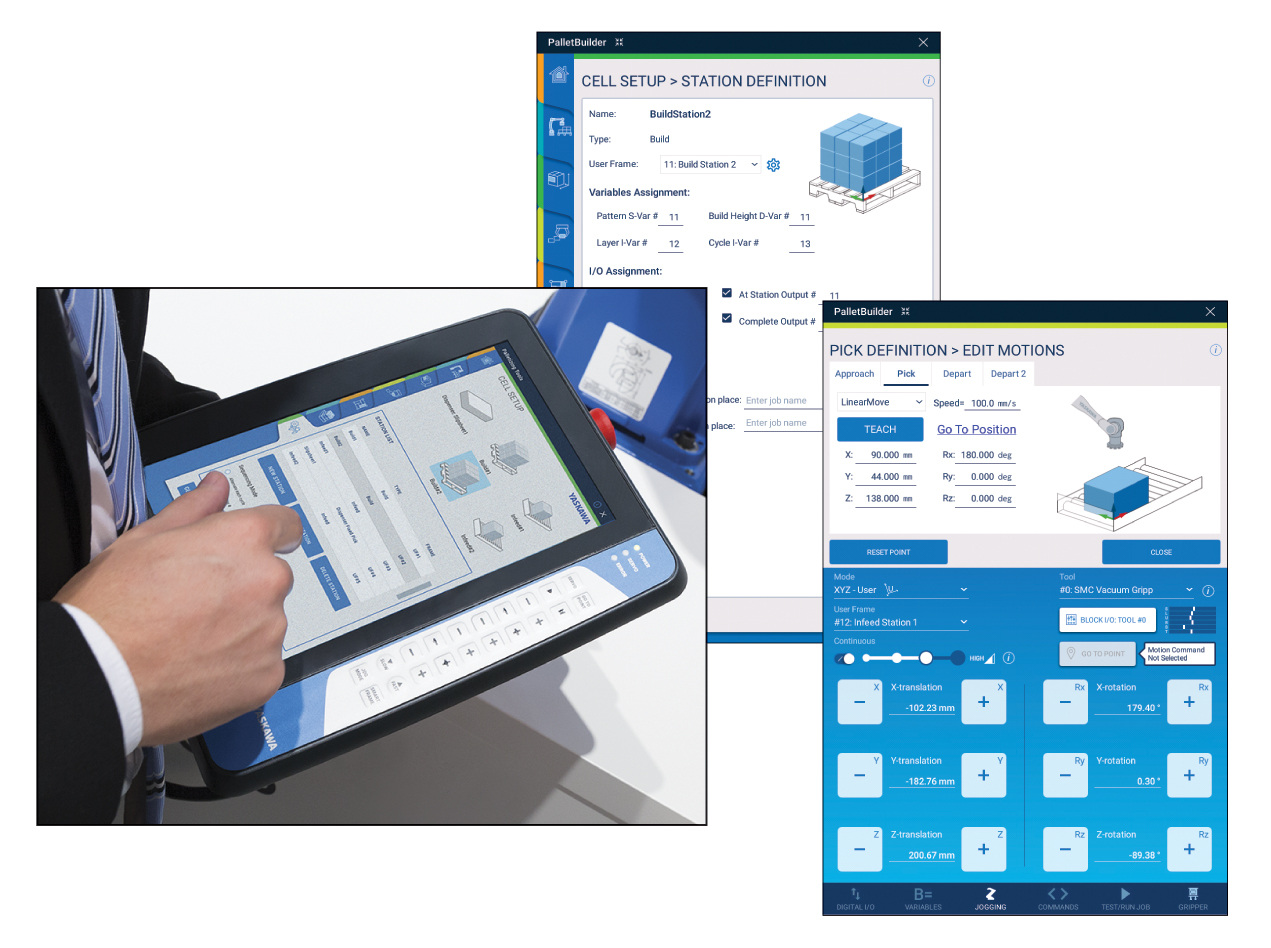 single pick and place tasks, this intuitive user interface utilizes a robust database and guided prompts to facilitate no-code programming for workcell configuration and pallet pattern setup.
Well-suited for small- to medium-sized enterprises with high-mix, low-to-medium-volume production that may have insufficient access to experienced robot programmers, Pallet Builder provides general functions for cell definition, gripper definition, and single pick and place jobs. Multiple infeeds, build stations and dispenser stations (for slip sheet separators) support up to eight combined stations.
Easily customizable, job editing is available for specific system requirements. Pallet Builder can accommodate a wide variety of grippers and end-of-arm tooling and easily adjust for product variation. A wide variety of grippers and end-of-arm tooling can be used and adjusted to accommodate product variation. Capable software includes multiple automatic pattern styles as well as full custom pattern support. Single drop positions with selectable label orientation are also available.
Compatible with the YRC1000 and YRC1000micro controllers, Pattern Builder is available as a complimentary download for use with GP-series and HC-series robots.
Smart Pendant V3.0 or newer required.
About Yaskawa Motoman
Founded in 1989, the Motoman Robotics Division of Yaskawa America, Inc. is a leading robotics company in the Americas. With over 540,000 Motoman® robots installed globally, Yaskawa provides automation products and solutions for virtually every industry and robotic application; including arc welding, assembly, coating, dispensing, material handling, material cutting, material removal, packaging, palletizing and spot welding. For more information please visit our website at www.motoman.com or call 937.847.6200.