Opto's LED Ringlight was nominated for design award by DirectIndustry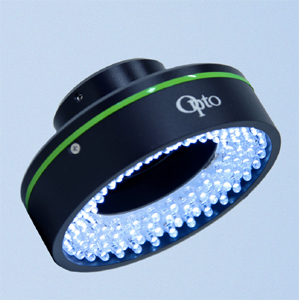 The Opto LED-ring lights for microscopes are featuring up-to-date LED technology and operate without a fan and are therefore vibration-free. LED ringlight was nominated for the DirectIndustry design award 2017.
Here are some technical data:
6.2W, white LED illumination

Working distance about 35mm

with 5-way Binder connector for Opto power supply 043-700020
We do not offer special models due to the rapid advancement of LED technology. We will gladly accommodate any special requirements (colour, pulsed operation, time lags, diameters, brightness, special controls, other geometries, etc.) you may have.

Article number 044-500084
About Opto
For over 30 years, Opto GmbH has been a manufacturer of high reliability, embedded vision and inspection solutions to some of the most challenging machine-integrated imaging applications. Opto provides high-performance imaging solutions ranging from simple vision components all the way to complex imaging modules and subsystems. Most recently, Opto has developed a range of highly compact embedded imaging modules specifically for OEMs involved in building industrial and biomedical machines. With onboard cameras, lens, light, and intelligence, Opto's new fully integrated imaging modules enable OEMs to instantly achieve the very highest image performance and resolution, without the need for specialist optical expertise.