OptoPulse EIL580 Family Optical Incremental Encoders
Optical Sensing Ensures Absolute Accuracy and High Signal Quality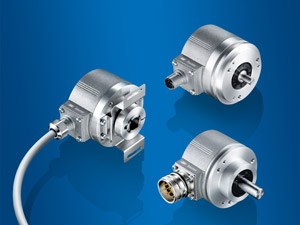 Southington, Conn. -- For high-precision sensing applications where absolute accuracy and signal quality are critical, Baumer Ltd. has introduced the OptoPulse EIL580 family of 58 mm optical incremental encoders.
Available in various mechanical designs, the OptoPulse EIL580 family includes clamping flange encoders with 10 mm solid shafts, synchro flange encoders with 6mm solid shafts, and 8 to 15 mm blind hollow shaft and through hollow shaft models. All encoders feature finely graduated disc increments that can provide 100 to 5000 impulses per turn to enhance productivity and control. Designed for high-precision applications, the optical sensing capability ensures absolute accuracy and consistent signal quality in temperatures from -40°C to +85°C.
Designed to be extremely robust, OptoPulse EIL580 encoders feature solid die-cast housings with massive 1.5 mm aluminum walls, short circuit-proof connections to guard against reverse polarity, and optional IP 67 protection. The encoders' unique ShaftLock feature protects the bearing pack from misalignment and prevents the code disc from damage caused by excessive shaft load. Excellent shock protection to 300 g and vibration protection to 30 g increase the encoders' reliability and precision.
OptoPulse EIL580 installation is quick and easy. The encoders feature M12 or M23 connectors and cable outlets in varied lengths for connection flexibility, and a comprehensive range of mounting accessories such as stator and shaft couplings, torque support and peripheral equipment like measuring wheels.
The Baumer Group is a leading international manufacturer of sensors and system solutions for factory and process automation. In 2012, the innovative family-owned company employed about 2,500 people worldwide in 36 locations and 18 countries. The long lasting success is built on high customer focus as well as the innovative and diversified product range of the product segments Sensor Solutions, Motion Control, Vision Technologies, Process Instrumentation, and Gluing Systems.