Opto presents groundbreaking Dual e-Scope Stereo Base with Inverse Microscope at SPIE Photonics West this week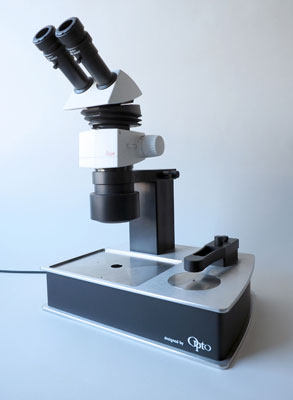 Two high resolution magnification ranges in one scope. Designed for 'in chamber' biomed and cell analysis applications such as IVF and other cell engineering applications – no more transferring samples between workstations!
Reinventing microscopy with a unique easy to use ergonomic user experience.
Ultra-high contrast macro and micro imaging from the same instrument eliminates the need for 2 separate microscopes!
Fully compatible and retro-fittable to most leading stereo microscopes, and RFID antenna products
All this features Opto's brandnew, groundbreaking Dual e-Scope Stereo Base with Inverse Microscope
Visit us at SPIE Photonics West this week and talk to our experts:
Photonics West: 30 January - 01 February 2018 visit Opto in the German Pavilion, Booth: 4629-68
The Moscone Center San Francisco, California, USA
| | |
| --- | --- |
| | |
| The stereo base contains an integrated LED illumination with Opto 'e-mirror' technology to flexibly adjust the brightness and contrast. | The 200x integrated inverse microscope features precision focus and an adjustable LED illumination with embedded phase contrast for perfect high contrast structural imaging |
Technical Data:
Stereo Clamp diameter 76mm
Stereobase with Glass-plate to use also RFID Antenna systems
Integrated USB 3.0 5 MP Camera with Power supply and cable for PC
PC-specification: at least WIN 7 and up with USB-3.0 Port
About Opto
For over 30 years, Opto GmbH has been a manufacturer of high reliability, embedded vision and inspection solutions to some of the most challenging machine-integrated imaging applications. Opto provides high-performance imaging solutions ranging from simple vision components all the way to complex imaging modules and subsystems. Most recently, Opto has developed a range of highly compact embedded imaging modules specifically for OEMs involved in building industrial and biomedical machines. With onboard cameras, lens, light, and intelligence, Opto's new fully integrated imaging modules enable OEMs to instantly achieve the very highest image performance and resolution, without the need for specialist optical expertise.