Operator terminal for high-end applications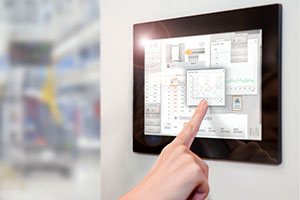 B&R has added the powerful T80 operator terminal to its Power Panel T-Series. A high-performance Intel Atom processor enables versatile, dynamic web-based HMI solutions. The elegant glass screen makes the Power Panels the perfect accent for a high-end machine design.
The glass screen has integrated edge protection to endure harsh everyday operation. The shallow installation depth makes the devices easy to mount in either a control cabinet or swing arm system. The projected capacitive multi-touch screen responds precisely and reliably, even when operated while wearing thick leather gloves. The devices are available with display diagonals ranging from 7" to 15".
Easy configuration
The Power Panel T80 comes with an integrated service page. This opens without having to be installed and allows configuration of the IP address, DHCP server and screen saver. These settings can easily be saved on a USB flash drive and copied to other Power Panel T80 devices.
Protected operating system
The Power Panel T80 operating system is completely protected against unwanted changes made by application programs. At runtime, application data is stored exclusively in the volatile RAM memory. The performance and stability of the operating system are therefore not affected by data fragmentation, even after years of operation. The operating system is also protected against tampering.
The T80 rounds off the upper end of B&R's operator terminal portfolio. Together with the T50 and T30, B&R offers a comprehensive selection that is scalable over a wide range in terms of cost and performance. The Power Panels are also available in C-Series variants with an integrated controller.
About B&R
B&R is an innovative automation company with headquarters in Austria and offices all around the world. On July 6, 2017, B&R became a business unit of the ABB Group. As a global leader in industrial automation, B&R combines state-of-the-art technology with advanced engineering to provide customers in virtually every industry with complete solutions for machine and factory automation, motion control, HMI and integrated safety technology. With Industrial IoT communication standards like OPC UA, POWERLINK and openSAFETY as well as the powerful Automation Studio software development environment, B&R is constantly redefining the future of automation engineering. The innovative spirit that keeps B&R at the forefront of industrial automation is driven by a commitment to simplifying processes and exceeding customer expectations.