Opening Up New Opportunities in Photonics!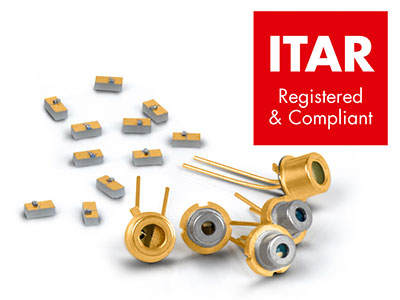 LASER COMPONENTS Canada Granted ITAR JCP Certification
Bedford, NH - International Traffic in Arms Regulations (ITAR) is the regulatory regime in the U.S. that restricts and controls the export of defense and military related technologies, safeguarding U.S. national security and further U.S. foreign policy objectives. LASER COMPONENTS USA, Inc. fully supports this certification for LASER COMPONENTS Canada, Inc.
LASER COMPONENTS Canada, has been granted certification under the United States/Canada Joint Certification Program (JCP). The certification allows LASER COMPONENTS Canada to review unclassified Department of Defense (DoD) controlled military critical technical data, as may be required to participate on bids for U.S. and Canadian military projects. It removes a long-standing barrier, thus contributing to LASER COMPONENTS Canada' future growth through potential new markets that were previously not accessible. It speeds up the process of engaging with technical laser designers facilitating free and open discussions.
"The significance of this certification demonstrates our commitment to adhere to the strict provisions spelled out in the JCP and removes impediments to reviewing sensitive technical military data", stated Jeff Britton, CEO of LASER COMPONENTS Canada. "This provides LASER COMPONENTS Canada opportunities to open up new markets for our products".
During this challenging time of the pandemic, LASER COMPONENTS is committed to finding new ways to continually improve upon its reputation for excellent customer service, serving our current customers and markets, as well as the opportunity to explore and expand in new markets such as the military.