OLogic Helps Snorble Bring Magic to Bedtime
OLogic Snorble Press Release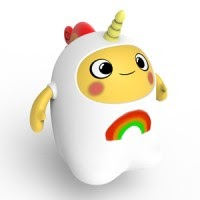 Technology has always played a role in how we sleep, but many times people ignore the beneficial effects of its presence in our lives. From the commonplace alarm clock or nightlight to the more recent introduction of white noise machines and relaxation apps, tech has helped improve our sleeping habits considerably. And now, there's Snorble®. Recently launched on Indiegogo with just over a month left, Snorble is set to help children sleep by being a friendly, comforting companion at bedtime. More than that though, Snorble is an animated and engaging character that supports the development of healthy habits in children. By creating fun experiences, Snorble ensures children maintain these habits as the habits we love are the habits we keep. Without a doubt, Snorble is truly a first-of-its-kind children's sleep product that blends proprietary Neuro-Linguistic Processing (NLP) and Artificial intelligence (AI) with an adorable character to present an experience for families that has never been seen before.
Snorble encourages the child to put on their pajamas, brush their teeth, and much more through engagement and rewards. When they are ready to go to sleep, Snorble's magical lights, sounds, and other features create a soothing environment to help keep them in bed.
As a key technology partner to the Snorble team, OLogic is helping to integrate leading technologies in AI and IoT. Utilizing Ologic's state-of-the-art edge compute platform, Snorble can run advanced computer vision and AI algorithms that have been developed by the team at Snorble to enhance the bedtime experience. A major requirement for the team was to ensure the security of the device, and this is where Edge AI has a significant lead over cloud-type architectures, which require continuous connection to the Internet. With edge-based technology, we can ensure security for the child is accomplished as connectivity to the Internet is only required for version-ups, and this has to be approved by the parent. At all other times, Snorble is a companion that thinks for themselves and focuses all their attention on bringing magic to families.
Ted Larson, CEO of OLogic, commented, "We are so excited to be involved with Snorble and the team. It's a fantastic idea and yet another example of edge-based technology that leverages our AIoT platform to enhance the performance of the product whilst saving development cycles for the Snorble engineering team. We are seeing so many new use cases coming up that are utilizing our edge-based computer vision and AI technology, it's truly a significant change in network architecture and an exciting time for OLogic."
About OLogic
OLogic is a team of designers and engineers with a passion for development and new ideas. OLogic serves the needs of our customers with expertise in areas of electronics design, embedded software, mechanical and industrial design, and low-cost design for manufacturing solutions.
For business inquiries, contact:
Email: [email protected]
Contact: Ted Larson, CEO OLogic
Phone: +1-408-663-6638
Address: 3350 Scott Blvd, Building #47, Santa Clara, CA 95054, USA
Website: https://OLogicinc.com
About Snorble
Snorble is the brainchild of serial entrepreneur Mike Rizkalla. Having gone through the motions of trying to establish a consistent and healthy bedtime routine for his own kids, Max & Emily, Mike realized there had to be something out there that could help with this. After Googling "How to get a toddler to sleep" and receiving 198 million results, Mike discovered there were several sleep aids and trainers on the market. To his dismay, however, none of them seemed to have the holistic approach to bedtime that he was looking for. Convinced that his own son was, in Mike's words, "an incredibly adorable descendant of Dracula" and realizing that necessity truly was the mother of invention, Mike went ahead and invented Snorble.
For further information, contact:
Email: [email protected]
Website: https://snorble.com