Off-the-shelf slide tables
igus' DryLin slide tables are available pre-assembled and off-the-shelf, saving the engineering time and in-house manufacturing costs involved with custom assemblies. They are a bolt-on solution requiring zero maintenance and are extremely low cost when compared to ball bearing and custom slide table systems.

The DryLin slide tables require no special lubrication systems, so manufacturers are able to reduce their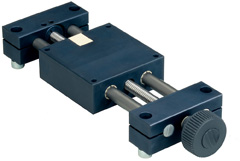 BOMs (Bill of Materials) in line with current trends towards reducing maintenance points. Engineering, purchasing and assembly times are freed up and hidden processing costs are reduced by eliminating multiple vendors.
The compact linear units incorporate liners made of igus' dry-running iglide plastic bearings which require no maintenance. This also means dirt and dust can not adhere to lubricant and affect performance or cause shaft damage, which is a problem with more expensive, re-circulating ball bearing systems. These plastic liners also confer a low coefficient of friction, wear- and corrosion-resistance.
HTS and torsion-resistant SLW offer a choice of shaft, carriage and spindle materials. Derivative versions include HTS-/SLW-XY-tables, HTS-PL—preloaded for better precision—and HTSP; igus' most cost-effective and lightweight unit due to its plastic carriage and end blocks.
DryLin ZLW is a belt-driven system designed to position small loads rapidly and is especially suited to applications in the medical industry. A smaller, lightweight version is available that has achieved speeds up to 6.5 feet per second.
DryLin EasyTube is a simple, low-cost, maintenance-free linear unit for format adjustments in applications involving temperatures up to 176 degrees Fahrenheit.