OCTOPUZ V1.6 is Now Available!
The latest update for OCTOPUZ has just been released, and Version 1.6 comes packed with new features and enhancements.
Read on for a comprehensive list of what you can look forward to in OCTOPUZ 1.6, including a wide variety of welding improvements as well as increased arc/circular support, support for 7-axis robots, and more. This update is available to all users currently on Maintenance.
OCTOPUZ Core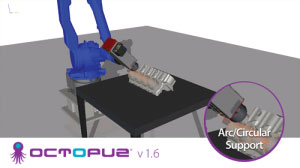 Arc/Circular Support added for the following brands

KUKA -> KRC2(src), KRC4(src, src/dat)
Fanuc
ABB
Motoman

Added a post processor for:

KUKA Sunrise
Greatoo SoftMC
KUKA Siemens 840D with Cycle832 support

Post extensions added to allow for Custom/Extended functionality
Posting Speed improvements for all posts
Added support for 7-Axis Robots
OTC IO wait commands added
Multiple position types now supported for OTC/Nachi posts
Added Import from Package Command
Check Version Menu Item Added
Tool On/Off Commands added to the XML Defaults
Rail Wizard improvements
Added a Legacy Tab to Linear Rail Calculations
Added script automation (RunRunTimeCommands)
Extreme speed improvement when applying reference points by "Travel"
Added installation verification for all addons
XML Settings provided to all addons
OCTOPUZ Welding Addon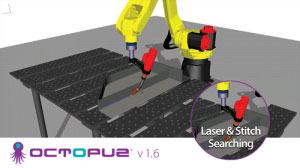 Added Arc/Circular Support for welding
5th Layer Added for Multipass
More control for searching orientations
Outside Edge Searching Method Added for Motoman
Stitch Searching Added
Weaving Simulation Improvements
Added a Help Window
Highlights Changed Field Based on Loaded Recipe
KUKA KRC4 Laser Searching Added
CAM Importing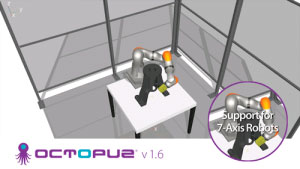 Added Mastercam 2017 Interface
Mastercam interface supports Arc/Circles for 2D paths
Mastercam interface supports Cycle 832 for Kuka Siemens 840D control
PT import now supports multiple APT files
Tools and Part exported from a CAM system can now be Imperial or Metric
Tool Command positions from CAM files now more customizable
Added IJK rotation option in the intermediate file format
Importing into Toolpaths Groups supported
OCTOPUZ Power Programming Addon
Added Attach Base To Part Command
Integrator Toolkit
Added Change Axis Settings Command
OCTOPUZ Cladding
New! Power Packs
KUKA Power Pack contains the following Commands:

Set CNC Settings
Set Compliance Settings
Add BackLash Check
Add B-Spline Settings

Motoman Power Pack contains the following Commands:
About OCTOPUZ
OCTOPUZ is the intelligent offline robot programming and simulation software ideal for any path-sensitive application. The company took a revolutionary approach by combining the offline programming of robots with a manufacturing process simulation. Today, OCTOPUZ provides a mainstream, versatile, powerful and effective solution for any robotic challenge.