OCTOPUZ Support: Going Above and Beyond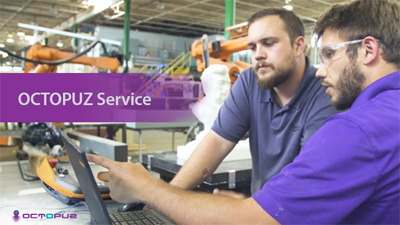 OCTOPUZ specializes in the design, development, implementation, and customization of superior Offline Programming (OLP) software for industrial robotic applications, doing so with extensive knowledge acquired from all around the world. OCTOPUZ firmly believes in after-sale care and support. We offer training, software support, cell programming, and more.
OCTOPUZ Inc. and its worldwide network of resellers and partners provide a complete array of services including high-level implementation and support. Experienced and field-savvy applications engineers quickly help OCTOPUZ end users to continue moving forward to get the job done. The success of our customers is the top priority for our team.
Our many methods of service and support are a testimony to this priority. Each and every customer is unique, and so is their training solution.
"The OCTOPUZ engineering support team has been spectacular in supporting CWST in our advancement of offline programming. The staff has a great feeling for what is needed to support our short term and long term goals"- James Groark, Curtiss-Wright
Whether that is through site visits, video meetings, emailing, or community forums, we use whatever outlet makes the most sense for the customer. We have also found that service and support communications often evolve into more impactful discussions beyond the initial concern, frequently resulting in customized software development that provides new competitive advantages.
Training and implementation go hand in hand. Good implementation and training leads to more success for our customers and get them going faster on their projects. Whether it be just basic training, or on a specific application, OCTOPUZ is here for you.
"I would highly recommend the OCTOPUZ training since they will walk you through the setup of your work cell, and you will know all the in's and outs of the program as they set it up, and you will be training on your own machine instead of a generic version of your machine." Darren Wernli, Estimator, Control Panels USA
Our support is something that we take pride in. Whether it is something complex or simple, we take the time to walk customers through their solutions. Our aim is to respond within the same day to help you solve any problem you may have.
"Any experience I have had with customer support has been great. The service tech responds in a timely manner, takes his time to explain the problem and how to do it correctly, and makes sure that the issue is 100% finished before moving on. I am very impressed with the customer support at OCTOPUZ." Ryan Mansfield- Robotic Welder Programmer/Operator, Dimic Steel Tech.
---
OCTOPUZ is an intelligent offline robotic programming and simulation software ideal for any sized company. It offers the ability to program, simulate and generate code for multiple robots, simultaneously, with support for most robot brands in any configuration. OCTOPUZ is fully customizable to our customer's needs, and our extensive support will provide assistance before, during, and after the sale.