OCTOPUZ Partners With SolidCAM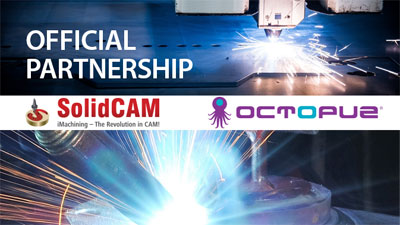 OCTOPUZ is pleased to announce that it has officially partnered with SolidCAM USA. With this partnership, comes full integration of OCTOPUZ and SolidCAM products. This allows users to benefit from the power of a world class CAM software in SolidCAM, and bring these advanced tool paths to the world of industrial robotics using OCTOPUZ. Read on for some highlights of what this partnership means:
1. OCTOPUZ now has the ability to import toolpaths from SolidCAM directly into the software for robotic applications. We have taken the CNC based software and integrated the OCTOPUZ machine, allowing toolpaths, origins, and other parameters to be converted into the correct joints, twists, and turns of robotics. The robot can then follow the path given the specifications set in SolidCAM or the manipulations applied to the paths in OCTOPUZ. Full error detection/avoidance is included for joint limits, reach limits, collisions, and singularities.
2. Importing Options: With OCTOPUZ, you also can import all data including the part geometry, tooling, and toolpaths from SolidCAM. After syncing, OCTOPUZ will automatically open with the part and toolpath in the correct location relative to the robot user frame- ready to go.
3. Mapping Coordinate Systems: Coordinate systems in SolidCAM are mapped into OCTOPUZ. An example of this is setting your base frame of your part in SolidCAM which will then be carried over to OCTOPUZ upon import. Tool frames in SolidCAM will be mapped to J6 of the robot in OCTOPUZ. This easy transition makes for a seamless integration between OCTOPUZ and SolidCAM.
4. Support: With the purchase of SolidCAM and its intended use with OCTOPUZ, OCTOPUZ and SolidCAM's support teams will ensure you have full training, implementation, and in-depth support for all of your robot and CNC programming needs.
5. Unique Packages: With the purchase of SolidCAM from OCTOPUZ, we offer 4 unique packages developed to provide the correct features for your tooling needs in terms of 2D, 3D, and multi-axis operations.
Ken Merritt, Partner Manager for SolidCAM, Inc. was asked about their partnership with OCTOPUZ Inc. for programming Robots. Merritt had the following to say:
"SolidCAM, Inc. works strategically with many partners in the manufacturing industry. Our goal is always to bring "Best in Class" solutions together for our customers. We know that it is, very often, the blending of unique, and sometimes interdependent, technologies that opens the door to stunning improvements in Performance, Quality and Profitability for companies competing in this global market. We are always looking for partners, who's Integrity, Service and Product offerings are multiple steps above the average. When we met OCTOPUZ and - realized the power of their products, we knew immediately that this partnership was destined for greatness. Modern Robots are doing so much more today than just pick & place, so having the ability to program a wide variety of tool paths with the power, flexibility and robust capabilities of SolidCAM is essential. Coupled with the simulation and robotic control that OCTOPUZ brings to the table, the partnership is opening up amazing options throughout the manufacturing industry."
About SolidCAM
SolidCAM was founded in 1984 by Dr. Emil Somekh, who continues today as the CEO of SolidCAM Worldwide. Dr. Somekh's vision is to provide the best possible Computer Aided Manufacturing (CAM) system the industry has ever seen. Dr. Somekh has always been an innovator, bringing technologies to the market that stand above the standard. In 2003 SolidCAM achieved Gold Certification with SolidWorks as one of the first, truly integrated, CAM systems. SolidCAM has continuously maintained that Gold Certification level by consistently exceeding all quality, integration and compatibility requirements set by SolidWorks. With "Continuous Improvement" (CI) as a driving force, Dr. Somekh has led the SolidCAM team through decades of product enhancements, including the introduction of the revolutionary "iMachining" technology to the world of CNC machining in 2010. The Patent was awarded for iMachining in 2013 and it continues to amaze the industry today. SolidCAM is a full featured CAM system supporting simple 2D tool paths through the most complex 5 Axis Simultaneous motion on todays most advanced machining centers, including up to 17 axes of motion control on Multi-function MillTurn machines with full synchronization capabilities. For more information on SolidCAM, please go to their website.
About OCTOPUZ
OCTOPUZ is an intelligent offline robotic programming and simulation software ideal for any sized company. It offers the ability to program, simulate and generate code for multiple robots, simultaneously, with support for most robot brands in any configuration. OCTOPUZ is fully customizable to our customer's needs, and our extensive support will provide assistance before, during, and after the sale.