OCTOPUZ is Taking a Revolutionary Approach to Robotic Applications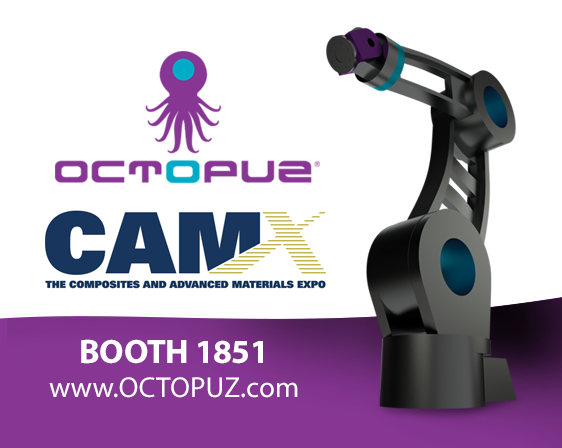 By taking a revolutionary approach to robotic challenges, OCTOPUZ is making the complex seem simple, and they'll show how it's done at the largest, most comprehensive Composites and Advanced Materials event for products, solutions, networking, and advanced industry thinking.
In-House Solutions will be featuring its innovative OCTOPUZ offline robotic programming and simulation software at CAMX 2014 being held Oct. 13-16 at the Orange County Convention Center in Orlando, FL, booth 1851. CAMX is a collaborative show that combines the strengths of two leading associations, ACMA and SAMPE, and is expected to bring 550 exhibiting companies and 8,500 attendees together under one roof.
OCTOPUZ provides powerful and effective solutions for all robotic challenges in ways that are unique to the composites industry. The applications are almost limitless, at CAMX we will focus on waterjet cutting, trimming, deburring, spraying, knife cutting, machining and simulation.
"We have seen an increasing number of robots being used in the composites industry for various applications. OCTOPUZ software can relieve the stress of robot programming concerns." said Greg Culp, Robotics Sales Manager at In-House Solutions.
Manufacturers are encouraged to bring their questions and challenges to the OCTOPUZ team, who will come back with ideas or even offer a free personalized demo tailored to the company's unique application. Free webinars conducted by experts in the field are also available to help companies and their employees stay on top of changes in the industry. Each session, developed in response to customer surveys, is designed to provide information, facilitate knowledge exchange and encourage questions.
About OCTOPUZ
OCTOPUZ is an intelligent CAD-to-Path and offline robot programming and simulation software solution ideal for any path-sensitive application. Created by In-House Solutions, the company took a revolutionary approach by combining the offline programming of robots with a manufacturing process simulation. Today, OCTOPUZ provides a mainstream, versatile, powerful and effective solution for any robotic challenge.
About In-House Solutions
More than 25 years ago, In-House Solutions began making powerful software tools accessible to small- and medium-sized manufacturers. Today, the company provides CAD/CAM, DNC, PCMM and OCTOPUZ robotic programming software solutions to organizations of all sizes. The In-House Solutions team of experts, with offices in the U.S. and Canada, are dedicated to selling, supporting, developing and implementing a full spectrum of software tools, particularly those specializing in NC programming and optimization, shop floor DNC communications and offline programming of industrial robots. In-House Solutions is the OEM supplier of Mastercam in Canada, and OCTOPUZ completes the company's software solutions for manufacturing.