OCTOPUZ brings the latest in Robotic OLP and Simulation to FABTECH Canada 2018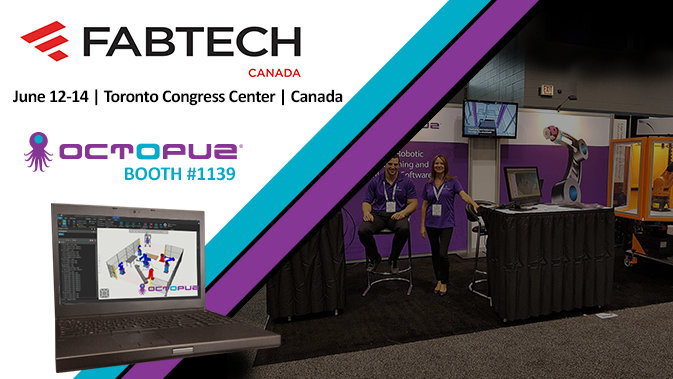 OCTOPUZ will be at FABTECH Canada from June 12th to 14th. Taking place at the Toronto Congress Center, Toronto, ON. FABTECH is the largest fabricating, welding, metal forming, and finishing event in Canada.
OCTOPUZ will be showcasing their offline robotic programming and simulation capabilities. The booth includes two robotic cells. One cell, designed by Robotic Solutions Inc., houses a KUKA robot performing weld tracing on an Auger with an Abicor Binzel torch using coordinated motion. The second robotic station includes a Universal Robot performing a collaborative pick and place demonstration. Come by and check it out, you might even walk away with some OCTOPUZ branded gifts.

In addition to the live demos, at the OCTOPUZ booth you will also be able to see a variety of simulation demos to demonstrate the range of applications and brand support. From welding to trimming and pick-and-place applications, OCTOPUZ makes complex, simple.

OCTOPUZ is offering free exposition only admission tickets to FABTECH Canada 2018, which you can obtain by registering through the OCTOPUZ Registration link below or visiting the FABTECH Canada website and using promo code 16218431. Registration is quick & easy!
tinyurl.com/y6wxp9ed

OCTOPUZ looks forward to seeing you there!
---

About FABTECH
FABTECH Canada provides a convenient venue where you can meet with world-class suppliers, see the latest industry products and developments, find the tools to improve productivity, and discover new solutions to all of your metal forming, fabricating, welding, and finishing needs.

Three days at FABTECH Canada puts you face-to-face with more companies, people, technologies, industries and equipment than you could review in months on your own. Even better, FABTECH Canada is where you'll find new ideas – unexpected solutions you didn't even know you needed.