OCTOPUZ at IMTS 2016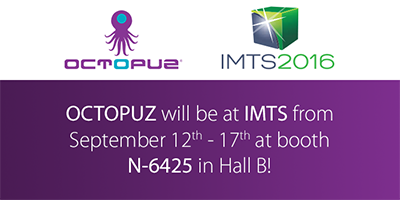 In just a few weeks OCTOPUZ will be exhibiting in Chicago at this year's IMTS at McCormick Place. Being the largest manufacturing trade show in the Americas, we're looking forward to joining over 2000 other exhibitors in presenting to over 100,000 attendees from all around the world, showcasing what our software can do. Featuring a FANUC robot, our booth will also include a demo displaying the power of OCTOPUZ programming, as well as its simulation capabilities.
We'll be located in the Fabricating & Lasers Pavilion in the North Building at Booth N-6425. With our technical support and sales teams on hand to discuss the benefits of OCTOPUZ, we're ready to answer any questions you may have. Come by and let us show you how OCTOPUZ can save you time and money with its intuitive programming and robust versatility.
Applications that OCTOPUZ specializes in include:
Welding: arc welding, MIG, TIG, oxy-acetylene, laser welding, GMAW, GTAW, and resistance welding
Edge Following: deburring, laser cutting, trimming, waterjet, and plasma cutting
Material Removal: 2D machining, 3D multi-surface machining, remote tool center point, and simulated tool/head changes
Simulation: component communication, machine tending, multiple robots, pick & place, plc, and shop floor layout
Additive Manufacturing: composite lay-up, dispensing, painting, laser cladding, and spraying