OCTOPUZ at FABTECH 2016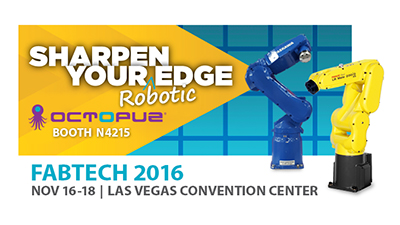 This coming November OCTOPUZ will be exhibiting at FABTECH, the continent's largest event for metal forming, fabrication, welding, and finishing. Held in Las Vegas, this year's show will play host to more than 1,300 exhibitors and will welcome more than 28,000 exhibitors from around the world. OCTOPUZ will be located in the North hall at booth N-4215 with two robots on display that have been programmed with OCTOPUZ software. The first, a Motoman MH5, will be tracing a cladding toolpath with a Tregaskiss welding head, simulating the robot resurfacing a part by adding a layer of weld onto its surface. The second, a Fanuc LR Mate 22id-4S, will also be tracing a pre-programmed toolpath and simulating a plate welding operation. With our technical support and sales teams on hand to discuss the benefits of OCTOPUZ, we're ready to answer any questions you may have. Come by and let us show you how OCTOPUZ can save you time and money with its intuitive programming and robust versatility. We'll be exhibiting at FABTECH on:
Wednesday, November 16th from 10am – 6pm
Thursday, November 17th from 6am – 5pm
Friday, November 18th from 9am – 4pm
If you're planning on attending, email us at [email protected] and we'll send you a ticket for free admission to the show! See you in Las Vegas!