OCTOPUZ and Worker Automation announce a new partnership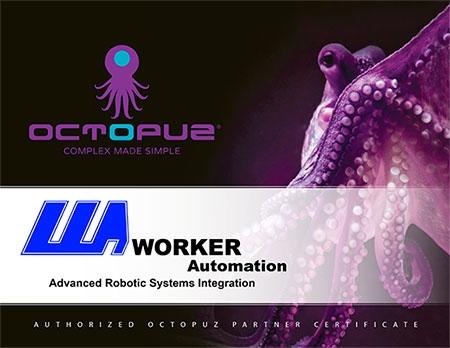 Richboro, PA, September 5, 2014 – In-House Solutions is pleased to announce that Worker Automation has been appointed as an authorized OCTOPUZ partner.
Worker Automation recognizes that the Robotic Software platform is changing at a rapid pace. OCTOPUZ Robotic Software tools will allow them to adapt quickly to their customer's programming demands.
"We look forward to our partnership with Worker Automation and transforming the robotics automation market for many years" says Greg Culp, Sales/Business Development at OCTOPUZ.
Founded in 1997 Worker Automation Inc. is a robotic systems integrator specializing in the design and fabrication of automation systems for welding, machine loading/unloading, palletizing, material handling, assembly and more for markets as diverse as aerospace, automotive, and construction to appliances, food processing, electronics and beyond.
Worker Automation's 23,000 square foot facility located in Covington, Ohio is fully equipped to serve customers across the United States with over 20 standard robotic cells to automate production. Worker Automation is also able to accommodate a wide array of special design considerations and will work with you to build the ideal custom solution for your specific needs.
To learn more about Worker Automation please visit www.arcworker.com
About OCTOPUZ
OCTOPUZ (www.OCTOPUZ.com) is an intelligent CAD-to-Path and offline robot programming and simulation software solution ideal for any path-sensitive application. Created in 2013 by In-House Solutions, the company took a revolutionary approach by combining the offline programming of robots with a manufacturing process simulation. Today, OCTOPUZ provides a mainstream, versatile, powerful and effective solution for any robotic challenge.
About In-House Solutions
More than 25 years ago, In-House Solutions (inhousesolutions.com) began making powerful software tools accessible to small- and medium-sized manufacturers. Today, the company provides CAD/CAM, DNC, PCMM and OCTOPUZ robotic programming software solutions to organizations of all sizes. The In-House Solutions team of experts, with offices in the U.S. and Canada, are dedicated to selling, supporting, developing and implementing a full spectrum of software tools, particularly those specializing in NC programming and optimization, shop floor DNC communications and offline programming of industrial robots. In-House Solutions is the OEM supplier of Mastercam in Canada, and OCTOPUZ completes the company's software solutions for manufacturing.