Object Detection with the EyeVision Image Processing Software
The

EyeVision 2.6 image processing software by EVT offers various vision solutions to master the most varied applications – the software measures, reads, compares, counts and most of all: recognizes many different objects no matter in which position and orientation. EyeVision finds the component part surely and exactly on the assembly line or in the box.

For a complete machine vision system a adequate sensor for example a smart camera of the EyeCheck or EyeSpector series, where the powerful EyeVision software commands for object detection are already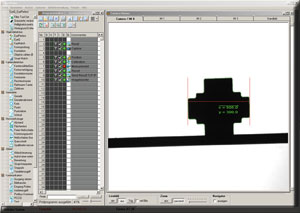 integrated. Additionally the sensors master nearly every image processing task due to their high processing power.

Where common, classic switching sensors are totally out of there depth with the recognition task, the object detection sensors by EVT steal the show, because they detect even objects of complex shapes and details that turn up occasionally in unexpected positions.

Due to commands for a highly precise position and orientation detection, such as the EyeVision commands SmartMatch and KeyMatch, the sensors instantaneously detect defective parts and parts in the wrong position, angular orientation or sequence (or a combination of all of these). With these commands the sensors master almost all current image-processing tasks and position tracking allows reliable object detection even if they are not accurately and repeatedly in the taught-in position. Even the most complex inspection systems e.g. for turned part sorting and stamped part inspection can be solved.

All evaluations take place relative to the current part position and orientation, without having to define a whole new characteristic for every possible position. With the powerful object detection sensor even demanding pick-and-place applications can be mastered.

Checking presence, position and completeness, part detection and differentiation, sorting of parts, pick-and-place and checking defective parts are a mere child's play for the EyeVision software and the object detection sensor.