Novel Visible-NIR hyperspectral lightings with single broadband LED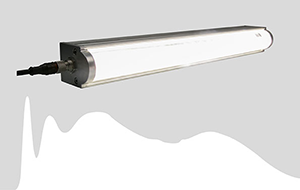 Paris, France – EFFILUX is pleased to introduce its new hyperspectral lighting HSI range, created from a single proprietary LED developed by CCS Inc. that offers a tunable continuous spectrum from 400 to 900 nm, which can be easily integrated into wide variety of lighting for machine vision and scientific imaging.
CCS has successfully developed a proprietary, tuneable single LED illumination source that stays highly consistent across the 400nm and 900nm spectrum, overcomes the limitations of halogen (lifetime, heat dissipation, stability, and environmental issues) and multiple narrow band LED based hyperspectral lighting solutions (spatial and spectral uniformity, continuous spectrum, cost issues).
With EFFILUX's expertise in optics and CCS innovation in LEDs, this point source design provides exceptional spatial and spectral uniformity without wavelength-dependent angular absorption effects. The hyperspectral LED can be strobed if required and multiple LEDs can be mounted on a single PCB if increased output intensity is needed for high power applications. The spectrum can also be tuned within the available spectral range in order to tailor the light output to the specific application requirements, making it an ideal solution for multi-spectral imaging.
User can choose the most suitable form factor, such as bar, ring, backlight, line light, projector, and more, to meet their specific imaging requirements and inspection environment.
This high-performance illumination solution retains the benefits of LEDs with the flexibility to handle a wide range of new area and line scan applications for hyperspectral imaging in the visible-NIR region of the spectrum, including optical sorting and quality control systems, biotech and microscopy systems, security and counterfeit detection, waste sorting and recycling, medical imaging and diagnostics, and many others.
About EFFILUX
EFFILUX, a member of the CCS Group, with head office in Paris, specializes in the design, manufacturing and sales of powerful, flexible and easy-to-use LED lighting solutions for machine vision applications. EFFILUX differentiates itself through cutting-edge flexible LED lighting design, more than 35 years of optical experiences, extensive technical expertise, strong customization capabilities, and comprehensive lighting solutions with superior quality.