Nidec-Shimpo Announces New Models of the S-CART Series of Automated Guided Vehicles (AGVs)
Nidec-Shimpo Corporation (Nagaokakyo, Kyoto Prefecture, "Nidec-Shimpo") today announced that the company will begin shipping a new model of Automated Guided Vehicles (AGVs) – the next model in the company's S-CART series – equipped with a "Follow-Me" function. Additionally, the company has also developed a separate new model equipped with a "Return-To-Home" function as well as a model designed to carry a maximum payload of 500 kg.
The new model to be launched by Nidec-Shimpo is based on the company's guideless navigation AGV "S-CART" (100 kg payload version), that hit the market in 2016, and has been updated with a function that lets it track and follow a person or object. The newly developed S-CART model with the "Return-To-Home" function, on the other hand, is capable of automatically generating a path towards, and returning to, a designated "home" location.
Live demonstration of the S-CART's "Follow-Me" and "Return-To-Home" functions at the 22nd Mechanical Components & Materials Technology Expo (M-Tech) held at Tokyo Big Sight at the end of June, 2018.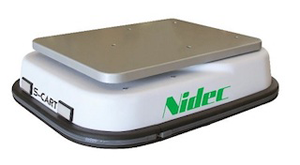 1. Launch of the upgraded S-CART
(1) New "Follow-Me" function
The "Follow-Me" function that finished development in June 2017 has become a standard feature. With the press of a button on a tablet, the AGV starts tracking a person (or object) in front of it and follows it around. If the AGV is operating in an area with an associated preset movement pattern, it can alternate between tracking mode and the preprogrammed behavior on command.
(2) Improved obstacle sensing capabilities (forward movement only)
The AGV's obstacle detection sensors have been improved and it is now able to detect objects 5 meters in front of, and to the sides of, the AGV. Previous generations were merely capable of sensing objects up to 1 meter directly in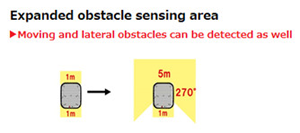 front of and behind the AGV. The 1 meter sensing limitation for sensing objects behind the AGV still applies.
(3) Changes to the accompanying controller tablet
The control application has been completely redesigned, resulting in an improved layout with higher usability. The signal strength of the tablet has also been increased.
(4) Launch date: June 20, 2018
2. Development of S-CART with "Return-To-Home" function
Nidec-Shimpo has developed a new S-CART model capable of automatically generating a path towards, and simultaneously returning to, a designed "home" location. If an obstacle blocks the generated path, the AGV will calculate a detour and adjust its path. The company expects to launch this new model before the end of the year.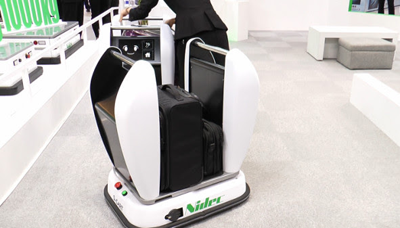 3. Development of an S-CART capable of carrying a 500 kg payload
In addition to the existing S-CART models with a maximum payload of 100 kg and 1000 kg, Nidec-Shimpo has developed a new model, the "S-CART500," designed to carry a payload of up to 500 kg. The new model will inherit the basic features that characterize the S-CART series, including guideless operation. The company expects to launch this new model before the end of the year.
About Nidec-Shimpo
Nidec-Shimpo was established in 1952, in Kyoto, Japan, as Shimpo Industrial Corporation. With traditional roots that began imbedded in the development of mechanical variable speed powertrains, Shimpo grew into a more diverse manufacturer of force related components, systems, and services. In 1994 the company was acquired by the Nidec Corporation and became formally known as Nidec-Shimpo. Nidec-Shimpo began to focus on the higher volume production needs that industry demanded as the global motion control and servo motor market grew at an accelerated rate. Today the company supplies a wide range of products including power transmission equipment, AGVs, press machines, measuring instruments and ceramic art equipment. Nidec-Shimpo is committed to developing products with a focus on safety and ease of use.
Nidec was established in Kyoto, Japan in 1973 by its Chairman and CEO Shigenobu Nagamori. In 1979, Nidec became the first company in the world to successfully commercialize a direct drive spindle motor for HDDs based on a brushless DC motor. Since then, the company has grown into a world-leading comprehensive motor manufacturer encompassing approximately 300 subsidiaries employing over 100,000 people throughout the world and with annual sales exceeding $10B. Nidec's motors, drives, generators and related products are found in a diverse range of applications including computers, smartphones, home appliances, automobiles, manufacturing plants, robots and more.