NI TestStand 2010 With Enhanced Team-Based Test Software Development Tools
rong>Latest Version of Test Management Software Delivers Advanced Sequence Analyzer, Three-Way File Diff-and-Merge Utility and Enhanced Integration With LabVIEW 2010

NEWS RELEASE – National Instruments today introduced NI TestStand 2010, the industry's most widely used commercial off-the-shelf test management software for automated validation and production testing. NI TestStand helps test engineers build a powerful software framework for accelerating the development of test sequences and minimizes the total cost of ownership of maintaining test executive software deployed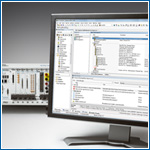 across many test stations. The latest version adds many new team-based development features including a Sequence Analyzer, a three-way file diff-and-merge utility, support for new PC technologies and enhanced integration with NI LabVIEW graphical system design software. NI TestStand 2010 is ideal for a variety of automated test applications within telecommunications, consumer electronics, automotive, aerospace/defense and other industries.

"We have been using NI TestStand for the last six years and have seen significant efficiency gains when compared to a custom test executive," said Warren Scott, software design engineer at Tektronix and Certified TestStand Architect. "The new Sequence Analyzer feature promises to greatly reduce the time required to debug our test sequences and help us to better adhere to our coding guidelines and best practices for NI TestStand."

With the new NI TestStand 2010 Sequence Analyzer, teams can more efficiently collaborate on sequence development without spending time performing manual error checking. For example, after engineers create a test sequence, the Sequence Analyzer checks the code against standard rules to ensure error-free code. It includes numerous rules for common errors and also helps engineers create their own custom rules within the analyzer utility. A new three-way diff-and-merge utility complements the Sequence Analyzer and provides teams with improved functionality for comparing and easily merging different files. This is especially useful for teams using source-code control software to manage the revision control of their test software development.

NI TestStand 2010 also supports the latest PC technologies with features including a redesigned .NET Adapter that takes advantage of chained calls with dot notation and many other .NET Framework improvements. Additionally, NI TestStand 2010 supports 64-bit integers, which simplifies the calling of code modules with 64-bit integer parameters. With these enhancements, engineers can implement the most advanced technology in their test system designs.

NI TestStand 2010 is optimized for use with LabVIEW. It takes advantage of LabVIEW 2010 packed project libraries so engineers can create more modular test architectures. NI TestStand also integrates with LabVIEW projects and classes to help teams implement object-oriented programming and combat obsolescence by using hardware abstraction layer architectures. As an added benefit, engineers using NI TestStand 2010 gain enhanced support for symmetric multiprocessing to simplify access to LabVIEW multithreading for improved performance on multicore processors.

Readers can learn more about NI TestStand 2010 by visiting www.ni.com/teststand.

About National Instruments
National Instruments (www.ni.com) is transforming the way engineers and scientists design, prototype and deploy systems for measurement, automation and embedded applications. NI empowers customers with off-the-shelf software such as NI LabVIEW and modular cost-effective hardware, and sells to a broad base of more than 30,000 different companies worldwide, with no one customer representing more than 3 percent of revenue and no one industry representing more than 15 percent of revenue. Headquartered in Austin, Texas, NI has more than 5,000 employees and direct operations in more than 40 countries. For the past 11 years, FORTUNE magazine has named NI one of the 100 best companies to work for in America.