NI Powers Up Communal Lab for Smart Grid Technology
Wou

ldn't it be great if your home's air-conditioning unit warned you it needed maintenance instead of just shutting down in the middle of a 100-degree day? National Instruments recently partnered with a company that could make these alerts a reality in future homes – just like a car's "Check Engine" light.

Featuring $600,000 of sophisticated product testing equipment, the Pike Powers Laboratory & Center for Commercialization (Pike Powers Lab) serves as an independent facility where any company can develop, test, and validate cutting-edge products geared towards smart grid energy. It is the only center of its kind in the United States. The lab includes NI PXI, NI CompactRIO, NI LabVIEW, and many other National Instruments products.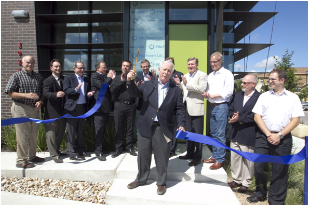 On Tuesday, June 11, NI employee Roberto Piacentini joined Pike Powers,
the U.S. Department of Energy, and delegates from other major tech
companies at the opening of the Pike Powers Lab.



At the energy equivalent of three residences, the Pike Powers Lab can simulate any building's environment and control each circuit in the building independently – meaning that researchers can isolate appliances in order to determine whether the A/C or pool pump was responsible for the spike in your energy bill.

The lab is owned and operated by Pecan Street Inc., a clean energy consortium founded in Austin. Pike Powers, the lab's namesake, is considered the "godfather of the Texas technology economy" and continues to champion economic development for Austin.