Next Level of Original Bourdon - Baumer is Focusing Clear Identification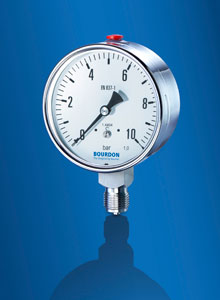 After the successful introduction of the Original Bourdon in May 2014 Baumer has taken next level of footprint by a clear identification. From September 2015 the core products of Original Bourdon, the stainless steel pressure gauges from diameter 63 and 100mm will have the famous brand of "Original Bourdon" printed directly onto the dial of the manometer. "With this step of identification, we fulfill one of the important market demands regarding customer perception", Mr. Sascha Engel, Director of Sales & Marketing said. After the Local Content establishment in Saudi Arabia in May 2015, the specific branding effort is one of the next consequences Baumer has taken to position Original Bourdon into the markets of Process Industry. Since the positioning focus started, various branding activities have been successfully implemented, e.g. quality seal on the packages with Original Bourdon logo , print- and online material bearing the brand, exhibitions highlighting Original Bourdon, the latest update of the Original Bourdon microsite, specific newsletters, etc. Now, with the latest activity the valuable customer can be assured of getting supplied unique Original Bourdon. Wherever labelled Original Bourdon outside, Original Bourdon is inside.
The Bourdon brand has been well known since established in 1849, when Mr. Eugène Bourdon had invented and patented the tube pressure gauge. Since that time Bourdon has been a name for high quality, accuracy, reliability and traceability which nowadays is reflecting the key parameter inside the process industry. Furthermore, the brand is more than only a name. Bourdon describes also the Bourdon tube technology which is most popular and well known as the heart of the pressure gauge. Only at Baumer customers can get the Original Bourdon tube where even young mechanic engineers during their studies get educated on.
The working principle of the Original Bourdon tube is based on a c-shaped tube and relies on an allmechanical spiral, but requires a lot of material science knowledge. Rather simple but a brilliant idea, the working principle allows use in any environment. Onshore or offshore, hygienic or harsh environment – thanks to its simplicity the Original Bourdon pressure gauge virtually fits all. Though more than 165 years have gone by since its invention, the Bourdon technology is used wherever electrical power is rare or where safety requires manual reading.
About Baumer
The Baumer Group is an internationally leading manufacturer of sensors, encoders, measuring instruments and automated image-processing components. Baumer combines innovative technology and customer-oriented service with intelligent solutions for factory and process automation and provides a unique range of products and technologies. The family company has around 2,300 employees with manufacturing facilities, sales offices and agents in 37 offices and 19 countries, always close to the customer. With consistently high quality standards worldwide and a huge potential for innovation, Baumer brings their customers critical advantages and measurable added value across many industries.
Company Contact
Martina Mergl - Marketing Manager Process Instrumentation
Tel: +41 52 728 17 60